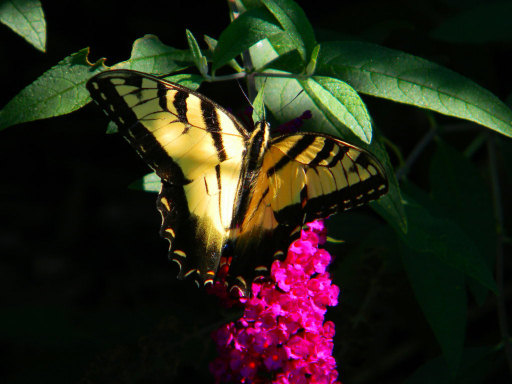 .
From commentor Kathi C:
Taking a break from the tomatoes (prolific beyond my wildest dreams) to show you the Lord Baltimore native hibiscus and one of my butterfly pix. I used to live on a hummingbird migratory route in the mountains of Colorado, where I spent almost every evening hanging out a window with my Nikkon shooting hummers. These days, I miss the mountains but late summer evenings find me hanging out back by the buddleia, shooting butterflies instead. It's a fair trade, I guess. There's a lot to be said for zone 6…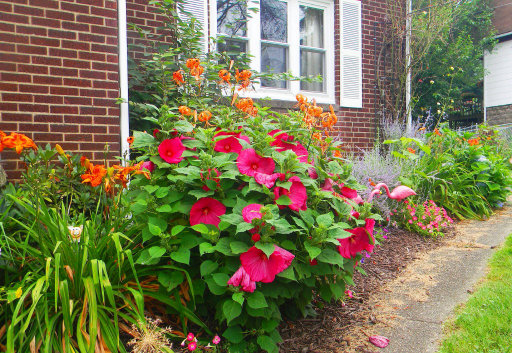 ***********
Here north of Boston (also zone 6, these days), we're not getting the tomato bounty I dreamed of back in February; despite regular applications of Serenade, there's more yellowed and/or blight-spotted leaves every damned day. Also, both of my Paul Robeson plants are dying, as is the Rose de Berne — the plants on either side are (relatively) fine, so I guess these varieties are just more susceptible to the wide range of death blights to which tomatoes are so prone. The Robesons in particular are a real loss, because we've gotten just three or four absolutely perfect fruit so far… plump, gorgeous, almost seedless & richly flavorful. I can't really relocate my "vegetable garden", which is a bunch of planters on the only consistently sunny spot on our 75×80 lot, but next year I may try putting just the Robeson plants in the flower garden, or next to the front door…
How are things in your gardens, this week?