Interesting piece in the NYT about the documentary filmmaker who has played a pivotal role in the Snowden saga, Laura Poitras: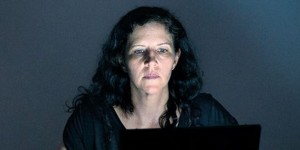 Never heard of her? That's by design: She's as publicity shy as her colleague Glenn Greenwald is publicity seeking, but she was the person who actually answered Snowden's anonymous leak offer initially and was the woman behind the camera when Greenwald interviewed Snowden in Hong Kong.
The article is too long to effectively excerpt, and I don't think there's anything all that new to be gleaned from it, but it is an interesting study in contrasts on a debate that has been driven (occasionally to its detriment) by personalities.
One interesting factoid: To set up their initial meeting, Snowden instructed Greenwald and Poitras to stand in front of a restaurant in Kowloon, look for a man carrying a Rubik's Cube and ask a coded question. Real spy vs. spy stuff, yo.