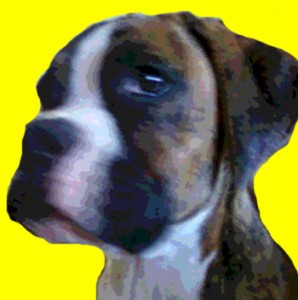 The above-pictured dog, Patsy Marie, is the sweetest critter ever, but she has an awful habit: She won't allow us to sleep in on the weekends. We shut the dogs out of our bedroom almost always because, when we don't, the humans end up clinging to two five-inch strips of mattress on either edge while the dogs loll and sprawl luxuriously in the middle.
Weekdays, I get up at 5:18 AM, make coffee, make breakfast, pack lunches and then take the dogs for a walk, generally leaving the house just before 6:00 AM. On weekends, I'd love to enjoy the unimaginable indolence of sleeping until 6:30 — or even 7:00 AM!
But Patsy Marie won't allow it. First, she comes to the door and whines. If that fails to elicit a response, she starts licking the door. You wouldn't think licking would be loud, but it is. If all else fails, she wags her tail, turning her butt so that the tail whacks the door like a drumstick.
If we curse, yell and throw shoes at the door, she just wags harder. Sometimes we wish she was a goldfish, but mostly we're glad she's a dog. She's very sweet.
Regarding terror, we're about to take a drive in the country with the teen behind the wheel. FSM be with us, and may the angel hair preserve us.
Please feel free to leave dog-training tips or discuss whatever.