Made some fajitas and had a bunch of people over, and Steve stole the show. My vet, Harry, was here, and Rosie is going to see him on Monday for some work on her arthritis. She also apparently has a "hot spot," which I guess means is an itchy region.
But Steve was all over the place. Loved on every single person in the house (Lily does the same thing, but I'm used to that). Here they are tag teaming my buddy Liz: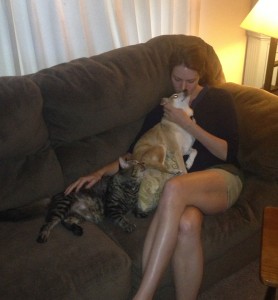 I'm just so happy I have another cat who loves company and wants to run around like a slut and get loved on, rather than one who is terrified and hides whenever anyone comes in. I like cats with moxie.