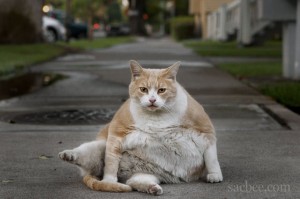 Because I am no stranger to the Black Dog, I try to greet the early morning crowd with something that, if not actually happy, at least isn't liable to inspire meditation upon old tv theme music. Some days this is really not an easy search, so I'm grateful to commentor Trollhattan for the news that Norm Lopez is safe at home, per the Sacramento Bee:
Norm Lopez has a fervent, almost cult-like following in certain Sacramento communities: local bands have put him on their T-shirts, commuters exit the light rail at the 13th Street stop just to say hello and his Facebook page (as of Tuesday evening) is nearing 500 friends. His popularity sky-rocketed following a heart-warming reunion between Norm and his human, Tyler Lopez earlier this week. On Friday, a stranger mistook Norm for a pregnant cat in distress and took him to the Front Street Animal Shelter where staff recognized him from his Facebook page. Norm now has an identification chip and will be hosting a pub crawl to benefit the shelter on Aug. 31, 2013…
More detail (and photos) at the link. (Also: FYWP that I couldn't link this in the title.) Good on you for giving back, Norm, and ignore the fat-shaming haterz!
Apart from being grateful for our animal companions, what's on the agenda for the start of another week?