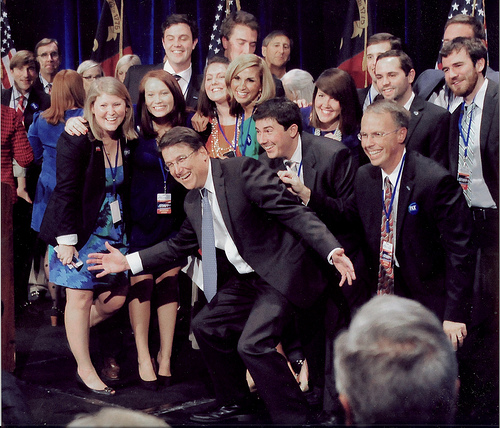 McCrory and the future policy advisors celebrate on election night
Source: Charlotte Observer photo donated to the. N.C State Archives
Young Republicans who helped elect North Carolina Gov. Pat McCrory have been rewarded with big salaries in his new administration. Matthew McKillip was named this week as chief policy adviser to Health and Human Services Secretary Aldona Wos. Records show the 24-year-old received a $22,500 raise in April, bringing his salary to $87,500. Before joining state government in January, McKillip worked for McCrory's 2012 campaign and spent 11 months as a research assistant at the American Enterprise Institute, a conservative think tank. Records show 24-year-old DHHS Communications Director Ricky Diaz got an even bigger raise in April, boosting his state salary to $85,000. Diaz campaigned for McCrory after working for one year in the office of New Jersey Gov. Chris Christie. Gov. Pat McCrory gave his cabinet secretaries pay hikes as large as $13,200, far more than anything afforded to typical state employees in recent years. The Republican's cabinet makes a combined $1.1 million – an 8 percent increase from his Democratic predecessor.
"I'm trying to make it at least where they can afford to live while running multibillion-dollar departments," McCrory said in an interview. GOP lawmakers changed state law last year to give the governor the power to determine cabinet salaries, a change from the previous year when all eight secretaries made $121,807, as set in state law. The additional money will come from other areas in the agency budgets.
Meanwhile, back in the real world outside the American Enterprise Institute and wing nut welfare circles:
After 13 years of teaching, Anastasia Trueman has had enough.The former Lynn Road Elementary math coach resigned on July 27. Even working two jobs, Trueman said several years without a raise forced her to walk. "I have to take a stand somehow, and one of the ways I can do that is by quitting," Trueman said. "I hate that I have to do that because it's hurting the kids more than anybody, but if I really cannot sustain a living then that's what I have to do.""It is a long time coming, and I think it's important to note this issue with teacher compensation didn't happen overnight," Eric Guckian, McCrory's senior education advisor, said. "It certainly didn't happen in the last six months, and it's a priority of our administration to change it to a compensation system that is performance-based and values our educators and values our students."
Not buying it. She is a math coach after all:
Trueman, however, said she doesn't feel valued. "They talk about we're doing all this reform and the one percent raise — well, since I've been frozen on a salary since 2009, what's one percent going to do for me?" she asked."They gave us one percent last year and then hiked up our healthcare."
all this reform
There's that word again. Unlike McCrory's political patronage hires she has actual experience, 13 years, but I've watched 15 years worth of experiments with Milton Friedman's theories on ed reform in Ohio so I have an advantage there. She's on the right track ignoring the jargon and looking at the numbers. For some reason that no one in Ohio can figure out, 15 years of ed reform in Ohio turns out to mean less funding for public schools and race to the bottom wages for teachers. (pdf)
They might have to burn the village to save it North Carolina, so don't let the smoke get in your eyes. Follow the money, and keep on turning out for Moral Mondays:
For the thousands who turned out for Moral Monday in Charlotte's Marshall Park, every protester had one thing in common: Making their frustration with Raleigh and their voices heard.
Monday's protest is the latest stop for the movement that has drawn thousands of people to weekly demonstrations in Raleigh. Charlotte had its turn and people came from every walk of life.
Cynthia Lank, of Charlotte, came with her two daughters. "I'm just furious," she exclaimed. "I am so frustrated with what has gone on in our legislature this year. I'm furious for our students, for women, for people, for old people, for sick people. I just feel like the state of North Carolina has taken a huge step backwards." Iola Gardner, another protester who came straight from work, agreed. "With all the changes in the general assembly, it's just ridiculous," she said. "I'm here for education, I'm for the suppress the vote — people need to know what's going on." For the Rev. William Barber, the protests are part of a major North Carolina movement, uniting coalitions fighting for social, economic and environmental justice over what he calls Republican legislators' divisive measures.As president of the North Carolina chapter of the National Association for the Advancement of Colored People, Barber is now coordinating demonstrations in the state's 13 Congressional districts. Demonstrations were also carried out in the North Carolina communities of Burnsville and Manteo.