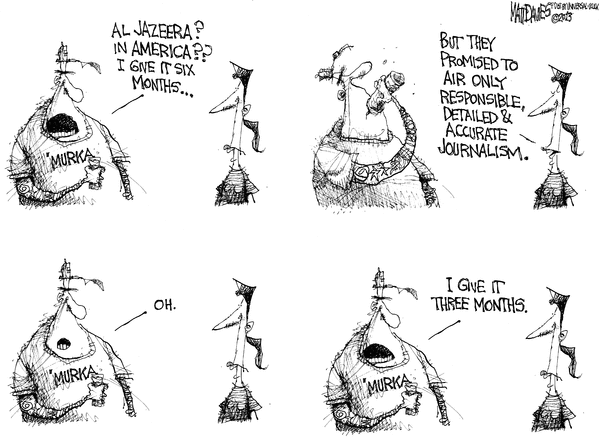 (Matt Davies via GoComics.com)
Gail Collins, on "Rocks in Space":
… Space exploration is one of the extremely few areas in which there is a lot of bipartisan agreement in Washington… nobody wants their constituents to be clobbered by an asteroid. Really, this is a priority. The Obama administration is currently promoting an "asteroid grand challenge," in which we're invited "to find all asteroid threats to human populations" and figure out what to do about them.

And — this is good news, people — we've already pinpointed about 95 percent of all the rocks in the solar system that are of planet-mashing size.

I know that you are now instantly focusing on the remaining 5 percent, as well as the multitudinous smaller fellows that are capable of taking out Massachusetts or Paris — or your local shopping center. Everybody is in favor of finding them too, particularly since one grazed Russia earlier this year, causing the House Science Committee to hold a special Threats From Space meeting.

Even members of Congress who pooh-pooh the peril of global warming believe in the danger of global asteroid-exploding. I am thinking about Rep. Lamar Smith, the Texas Republican who heads — yes! — the House Science Committee. And Sen. Ted Cruz, the top-ranking Republican on the Senate Subcommittee on Science and Space, who demanded that we "do what needs to be done" to prevent an asteroid from hitting the earth and smashing into a major American city. Or a Canadian one.

Despite all this cheerleading, there hasn't been all that much money spent on the mission. Discover magazine estimated that over the past 15 years, the United States had spent less money on asteroid detection "than the production budget of the 1998 asteroid movie 'Armageddon.' " In which Ben Affleck won Liv Tyler but the earth lost Shanghai, much of New York and Bruce Willis….