George Zimmerman, the innocent, traumatized victim of dangerous Skittle-flinging ninja-thug Trayvon Martin, has been doing what you would expect someone who was acquitted after shooting an unarmed minor to death to do: lying low and contemplating the fragility of life while respecting the grief of the Martin family. Or not: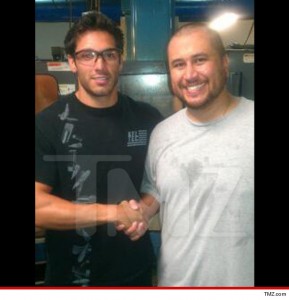 That's Zimmerman touring the fucking Kel-Tec gun plant in Cocoa Beach and posing for photos with an employee like some celebrity or huckster politician (with boob sweat). Kel-Tec manufactured the gun used to shoot Trayvon Martin. Zimmerman also reportedly inquired about this sweet little number: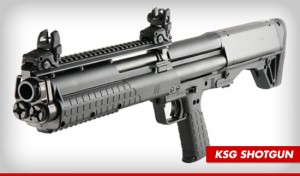 It holds 12 rounds of 12-gauge shotgun shells, which could take out half a busload of unarmed high-schoolers.
I know some of you are convinced Zimmerman is a cold-blooded murderer who went looking for someone to kill that rainy night. I always thought he was a squirrely incompetent instead, a squishy, officious little prick who thought strapping a gun on made him a BIG man and ended up killing a kid when his RoboCop fantasy went awry.
Damned if this personal tour of the death instrument factory and grip-and-grin photo-op don't make me think y'all might be right after all. Who the fuck does such a thing, except a sociopath?
[X-posted at
Rumproast
]