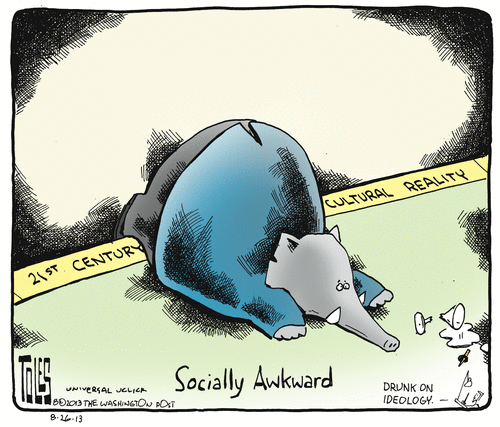 (Tom Toles via GoComics.com)
When EventheMeanGirl Maureen Dowd is defending President Obama… awkward!
… This month has been rife with efforts among the G.O.P. "wise men," using every channel possible — polls, op-eds, cable, Twitter — to try to talk sense to the goons of August. When Condi Rice is a "wise man," you know you're in trouble.

The Democrats never impeached W. and they had real grounds: starting a war on false premises and sanctioning torture. "The Republican Party is in a constant struggle between its ego and its id," Axelrod says, "and the id has mostly won out lately."

It isn't the president who should leave. It's the misguided lawmakers trying to drive him out.

For some of the rodeo clowns clamoring for impeachment around the country, Barack Obama's real crime is presiding while black.
***************
Apart from the madness, every precept turned on it ear, dogs and cats living together, what's on the agenda for the evening?