Kind of funny how this latest war is sneaking up on us. The steady drumbeat from the usual suspects, the obligatory front page pieces: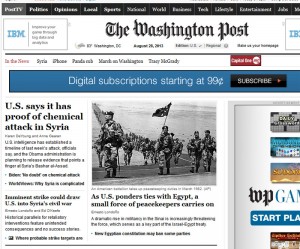 Listen closely and you can hear the orc drums, but right now we are just priming the pump, because, you know, from a marketing point of view, you never introduce a new product in August. Oh, and the chemical weapons- that's the trump card. We get so upset when middle east tyrants use chemical weapons on each other and their population, but damned if that doesn't keep us from helping them when they use them:
The U.S. knew about, and in one case helped, Iraq's chemical weapons attacks against Iran in the 1980's, according to recently declassified CIA documents obtained by Foreign Policy. Their detailed timeline, also constructed with the aid of interviews with former foreign intelligence officials, indicates that the U.S. secretly had evidence of Iraqi chemical attacks in 1983. The evidence, FP writes, is "tantamount to an official American admission of complicity in some of the most gruesome chemical weapons attacks ever launched."

Ever since last week's devastating evidence of chemical attacks in Syria, analysts have looked for benchmarks to predict the U.S.'s response. On Sunday, a U.S. official suggested that the U.S. is moving closer to possible military action in the country as the U.S. has "little doubt" that an "indiscriminate" chemical attack took place. Officials are reportedly looking to the 1998 air war on Kosovo for a precedent — a similar humanitarian crisis in the face of virtually no chance of a U.N. Security Council resolution to authorize use of force, thanks to dissent from Russia. And while Foreign Policy's additional reporting places the Iraq situation in contrast to today's debate over Syria, the details reveal just how sharply, in the past, the razor of U.S. interests in the Middle East has cut: "it was the express policy of Reagan to ensure an Iraqi victory in the war, whatever the cost," the report explains. And apparently, that went up to and including helping Saddam Hussein gas Iran.
At any rate, it is in one sense comforting to know how things will play out. This will ramp up for a while, we'll build a group of nations who have military might and similar business interests "coalition of the willing," we'll bomb the fuck out of some people with "surgical strikes" that will "send a message that the international community is serious" and undoubtedly kill a shitload of people accidentally have some collateral damage, but at least we are "doing something." Meanwhile, for the poor bastards in Syria, this means that they will be getting shelled externally and internally, one of which will be deemed legal under international law, one of which will be deemed illegal because Assad is no longer in the cool kid's club (Saddam says hi, Assad). Unfortunately, the bombs and artillery will not discriminate.
At home, we can expect he usual shit. Of course there will be the taunting of the anti-war left for being wrong and not serious about national security or the atrocities of chemical warfare, but until then we can just concern troll them for not being vocal enough:
The anti-war left is uncharacteristically quiet on possibility of Syria strikes http://t.co/GfNxq36Ltc

— Steven Dennis (@StevenTDennis) August 27, 2013
Pro-tip, Dennis, you asshole. The anti-war left is pretty predictably against a war in Syria.
And then we get to look forward to the whole liberal hawk debate, and then the diehards who will support whatever intervention Obama engages in, should he, and call everyone else closet Republicans, someone will force me to read the fucking New Republic again, and then, the best part- if Obama does intervene, and the mostly secular Assad regime leaves, there will be elections in Syria, and a muslim government will be elected. We can then be treated to years of hearing how Obama and the Democrats lost Syria, just like they did Egypt, all of which will be more proof for the necessity to invade Iran.
There. You are welcome.