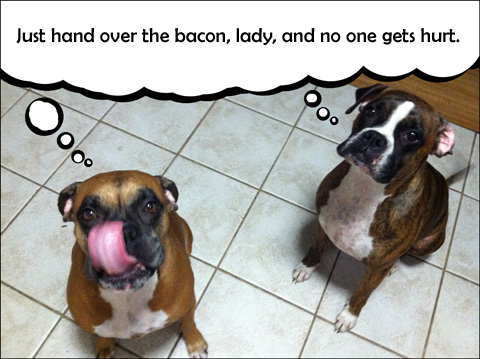 This is a gross story, but since this blog recently covered canine anal gland expression, what the hell: Every weekday morning when I'm making breakfast and packing lunches for the outside-the-home worker and student, my boxers station themselves nearby and wait for me to throw them a piece of salami, a scrap of cheese or — the most prized treat of all — a slice of bacon.
It doesn't always work out for them. Some days, breakfast is cereal and lunch is PB&J and fruit, soup and salad, etc. But they get treats often enough that they've learned to sit in this one special place and drool the entire time I'm doing my morning kitchen prep work.
This means that after I've shooed them away (with or without a payout), I have to clean up two puddles of drool. Every. Fucking. Weekday. I wipe up the drool, then spray 409 where the drool was and wipe that up.
Post cleanup, and aside from the 20 minutes or so between when the entire floor is mopped and it starts to get nasty again, the Drool Zone is the cleanest spot in the entire house.
Please feel free to discuss whatever.