One of the Moral Monday folks, Betsy, sent me some more info on this crowd: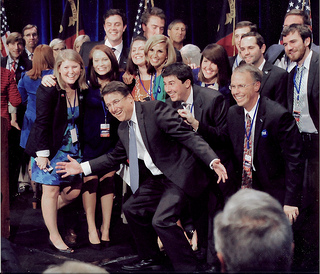 McCrory and the future policy advisors celebrate on election night
Source: Charlotte Observer photo donated to the. N.C State Archives
Gov. Pat McCrory says a pair of 24-year-old campaign staffers landed senior-level jobs in his administration because they were the most qualified applicants, beating out older candidates.
But the N.C. Department of Health and Human Services, where Matthew McKillip and Ricky Diaz got big promotions and raises after only a few weeks of government service, has been unable to provide any evidence their positions were ever advertised to other potential applicants or that other candidates were considered.
"They were actually moved over to areas that frankly a lot of older people applied for, too. But frankly, these two young people are very well qualified and they are being paid for jobs at which that's the pay rate for that job."
A review of job descriptions for similar government positions posted online by the Office of State Personnel show McKillip and Diaz don't meet the academic or experience requirements to qualify for even entry-level positions in the areas they now oversee. Their pay also exceeds the listed maximums for the most senior listed positions.
Before joining state government, McKillip worked for McCrory's 2012 campaign and transition team. Before that, he spent 11 months as a research assistant at the American Enterprise Institute, a conservative think tank, according to his LinkedIn profile page. He has a bachelor's degree in English.
Diaz previously served as a McCrory campaign spokesman and worked for about a year in New Jersey Gov. Chris Christie's office directing social media and digital communications strategy, according to his LinkedIn page. He holds a bachelor's degree in economics and East Asian studies.
Since taking office, McCrory has moved to exempt more than 500 state positions from the State Personnel Act beyond the number given that classification under his immediate predecessor, Democratic Gov. Bev Perdue. McCrory recently signed a new GOP-backed law giving him direct authority to hire and fire about 500 additional state government employees, bringing the total number to 1,500.
Speaking to a business group in Asheville on Monday, the governor suggested his administration is getting negative coverage of his economic and tax policies because news reporters don't have the education or experience to understand his policies.
"This is too complex for the journalists," McCrory said. "They don't have economics degrees. They've not been in business."
The taxpayer-supported salaries for McKillip and Diaz are about three times the starting salary for North Carolina public school teachers, who received no raises in the $20.6 billion state budget signed by McCrory.
Here's one of those teachers: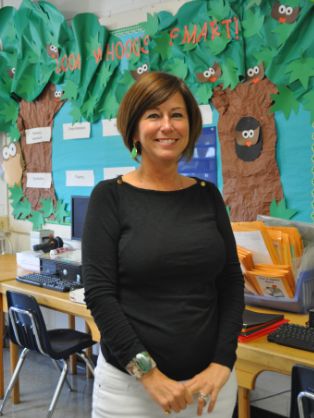 Second grade teacher Barbara Dell Carter prepares for a new school year at John Cotten Tayloe Elementary School. (Photos by Lindsay Wagner)
As we walk around her classroom, Carter points out all of the little ways in which she has prepared this room to be a great place to learn for her 21 second graders. Her positivity and excitement are palpable, but as we sit down to discuss her preparations for the upcoming year, Carter speaks in hushed tones about what is to come.
She is worried. Not the back-to-school jitters kind of worried; she has deep-seated concerns about the challenges she will face this year as educators grapple with a public school budget that spends $500 million less than what was spent in 2008.
Seventy-seven percent of the school's approximately 600 students received free or reduced lunch during the 2011-12 school year.

"I am lucky that my husband works in a field that is lucrative enough so that I can teach," said Carter. Without that income, she doubts she would be able to continue in this line of work.
"I just wish the lawmakers at the General Assembly would come to our classrooms. They need to meet with teachers and understand what it takes to meet the needs of our children," said Carter.
This North Carolina public school fills the same hole my local public school fills for low income kids. Poor people lead stressful, chaotic lives because it's a hell of a lot easier to plan if you're not constantly putting out fires brought on by erratic work and pay schedules and no financial cushion at all. Poor kids here rely on the public school. It's a constant in their lives. It's free, it's open to all comers and it's always there to fill whatever hole needs to be filled. It's true in the school my son attends and we're at 45% of students who qualify for free and reduced lunch. She teaches in a school where it's 77% of students.
I feel your pain North Carolina, because my local public school in Ohio has lost 1.6 million a year in state funding since 2011. When we say we value education and kids, we're lying. We value tax cuts and cronies.