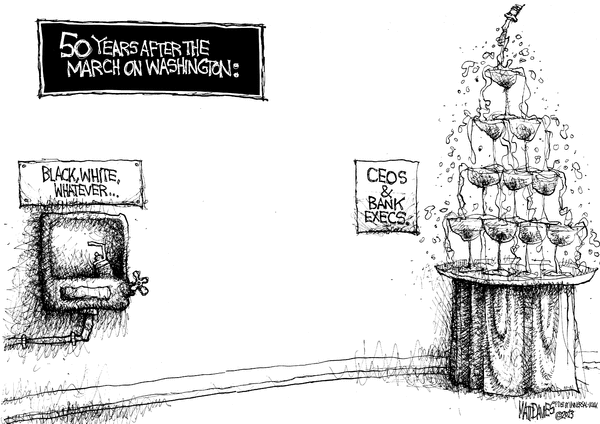 .
No, not that John Roberts:
Justice Ruth Bader Ginsburg will become the first Supreme Court member to conduct a same-sex marriage ceremony Saturday when she officiates at the Washington wedding of Kennedy Center President Michael M. Kaiser.

The gala wedding of Kaiser and economist John Roberts at the performing arts center brings together the nation's highest court and the capital's high society and will mark a new milepost in the recognition of same-sex unions…

Ginsburg and Kaiser are close friends. She is perhaps the Supreme Court's most ardent supporter of the fine arts, especially opera. Kaiser, 59, has been at the helm of the Kennedy Center since 2001 and is an internationally recognized expert in arts management and one of Washington's most influential civic leaders…
I understand that Justice Scalia is also an opera aficionado, but I'm not sure whether his name is on the guest list.
(Hat tip to commentor JGabriel, although I think he linked to a different source.)
***********
Advice from the ever-helpful Gail Collins (with a Cole-adjacent tie-in):
It is time to start thinking about running for the U.S. Senate. Allow me to explain.

There are no major Congressional elections this fall, except that one lone Senate special election in New Jersey, where Cory Booker is facing The Person Running Against Cory Booker. We need to look forward to 2014. There are already some exciting races shaping up, like the one in Kentucky where Senate Minority Leader Mitch McConnell is battling for his survival with the help of a campaign manager who admits having said he was "sort of holding my nose" to stay in McConnell's corner…

And then there are other states where nobody is running at all. For instance, Democratic Senator Tim Johnson is retiring in South Dakota, and his party seems to be having a hell of a time just finding a serious nominee. (Democratic position: "We are aggressively recruiting in South Dakota and plan on being competitive there.")

The cupboard is also sort of bare in Montana, where Senator Max Baucus is retiring. But not in West Virginia. This is Senator Jay Rockefeller's seat, and for a long while it looked as if nobody in the entire state was interested in being the Democratic nominee to replace him. But now the party may have a promising volunteer in the form of Natalie Tennant, who is both the secretary of state and the former mascot of the West Virginia University football team.

Happily, being the West Virginia mascot does not involve jumping around at games dressed like a gopher or a frog or the Fighting Okra. WVU's mascot is "The Mountaineer," who looks like Daniel Boone or Davy Crockett. Tennant in 1990 was the first woman ever to have the job. "People would throw cups at her. They would chant: 'We don't want a mountain deer. Bring us back our Mountaineer,' " the campus mascot adviser once told a local magazine…

Here's your mission, people. Start to check out the Senate races — there are going to be 35 next year, and 10 or 12 might involve real competition. You may want to send a few of the candidates donations — control of Congress hangs in the balance. The rest of the pack aren't going to require much attention. Unless, of course, one of the parties doesn't seem prepared to produce a nominee. Then you know what you have to do.