I asked commenter VidaLoca to give us an update on the fast food strikes and he was kind enough to do so. This report is from Saturday.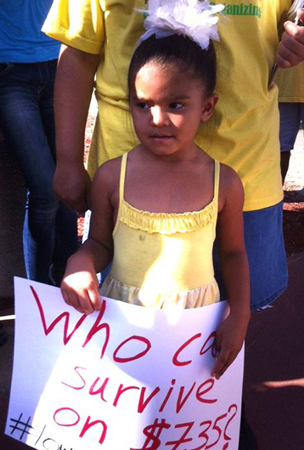 I wrote you earlier this month about the events surrounding the second one-day strike of fast food workers here and the "walkback" actions that followed on August 1 and 2. We had a third strike and walkback yesterday and today, and inasmuch as there seemed to be some interest among BJ readers regarding the second strike I thought there might be similar interest regarding the third.
As most people who have been following this story are probably aware, the strike movement is growing nationally. I was told that yesterday saw strike actions in 77 cities (which is an increase over the 50 cities I had previously heard reported). In Wisconsin there were strikes in Madison (new, but not a big surprise if you are familiar with the People's Republic of Madison) and Wausau. The latter is of interest because it's kind of a big deal here when political activity of this sort gets outside of the Milwaukee-Madison axis. Locally we saw growth both in the number of workers and the number of businesses involved. Also whereas previously the affected economic sectors were fast-food and retail, yesterday saw the first call-center workers walk off the job.
Aside from growth in numbers and spread across economic sectors the most notable new development this time is the growth of confidence among the strikers. In the first two strikes, the rule was unconditionally that workers returning to their shifts the following day were "walked back" by supporting delegations from the community. This time that rule was relaxed — the veteran strikers were confident enough about their degree of vulnerability (or lack thereof) that they basically said "you guys cover the newbies, we got this" and took a pass on the walkbacks. So this time we were only doing walkbacks for first-time strikers. And it seems to have worked — I was doing walkbacks from 6AM this morning until noon, and I didn't hear about any cases where strikers had problems getting back to work with promises of no reprisals.
Best,
VidaLoca
We looked at some pictures from Fight for 15 on Friday. This is Low Pay Is Not OK.