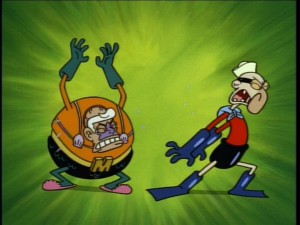 This weekend, President Obama partially convinced John "Bomb-Bomb-Bomb" McCain and his zany sidekick, Lindsey "More Butch than 10,000 Teabaggers" Graham, of the wisdom of his Syria intervention policy. The hotheaded duo imply they were lured onboard by assurances of extra ka-booms, covert operations and other cool war-stuff executed by not-their-kids.
Good for Obama for passing the Syria hot potato to Congress, as is right and proper. But this Obama supporter will be rooting for Congress to say no. Having McCain on the "other side" makes that a little easier.
McCain, who had previously rejected the administration's Syria intervention proposals because he deemed them too soft, and who surely knows that the public will reject a full-blown war as too hard, requires a war footing that his Goldilocks sense gauges as "just right." McCain and Graham's comments after their weekend meeting with the president signaled their tentative willingness to climb into the sack: McCain said a vote against the authorization of force resolution "would be catastrophic" and "undermine the credibility of the United States."
But as Steve Benen notes, that rationale doesn't make much sense:
By his reasoning, any time any president prepares to use military force abroad, Congress must agree or risk undermining the credibility of the United States. But what if lawmakers have sincere policy differences with an administration and they're right to oppose intervention abroad? To hear McCain tell it, that wouldn't much matter — lawmakers should feel an obligation to approve a resolution anyway.
And, as Benen also noted, McCain and his South Carolina appendage appear poised to withdraw their support if they deem the strike plans insufficiently warlike after the details emerge. Sadly, this pair of Klingon wannabes is what passes for foreign policy "wise men" in the Republican Party.
With Boehner now signaling his willingness to go along, it's clear that Obama has dialed the correct sleep number into the GOPosturepedic — so far. How far rightward is he willing to be dragged to keep their support, if at all? Launching an attack on another country invites all sorts of unpredictable outcomes, which is one reason it truly should be a last resort. Aligning an agenda with the likes of McCain, Graham, Boehner, etc., also has all kinds of potential for blow-back. Still thinking this is a mistake.
[X-posted at
Rumproast
]