Still 90 and 30 mins away, respectively, but thought I would throw this up anyway.
Given the play of the Mountaineers and the Steelers, I'm beginning to wonder if I picked the wrong football season to quit drinking. Plus, the Pirates are tanking.
Awesome.
*** Update ***
Rosie is still in command of the couch: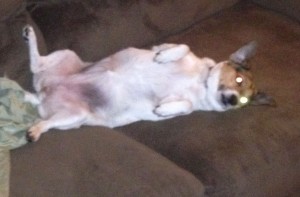 I love that I have turned a Jack Russell Terrorist, one of the most hyper breeds of dogs on the planet, into a total couch potato worthless layabout.