Guns are to George Zimmerman as land wars in Asia are to superpowers.  Never, ever, ever a good idea:
George Zimmerman's estranged wife called police officers to her father's house in Florida Monday, saying the former neighborhood watch volunteer who was acquitted of murder threatened her with a gun.

Shellie Zimmerman called police shortly after 2 p.m. Monday, said Lake Mary Police Chief Steve Bracknell.

Zimmerman hasn't been arrested and officers were at the house trying to determine what happened, Bracknell said.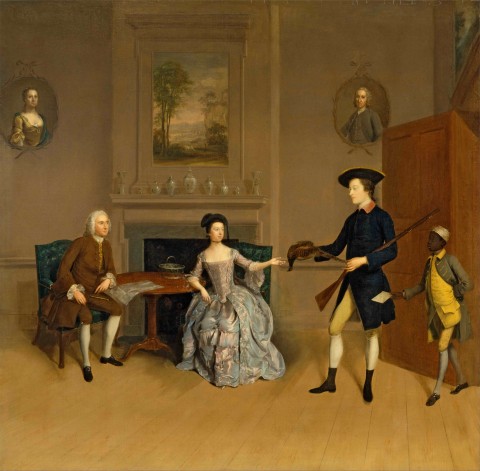 Early days, could be a misunderstanding, have to hear both sides, she probably had him down on the linoleum in fear for what little frontal lobe capacity he may have, yadda, yadda.
I don't have words left for how utterly stupid American gun policy is.  But on this one?  My only surprise  is that Zimmerman beat my internal over/under on how long it would take for him to go back down this road.
Oh — and if I'm Shellie Zimmerman, I'm looking long and hard at research like this. [PDF]  No snark here; this kind of thing is (literally) deadly serious.
Update: For the record, I checked our posts page before starting this little item.  Cole writes faster than I do; hence his ability to nail this story in time for us to land on the FP at almost the same instant.  Ah well, as we say in the gum business, double your pleasure, double your fun.
Image:  Arthur Devis, John Orde, His Wife Anne, and His Eldest Son William, between 1754 and 1756.