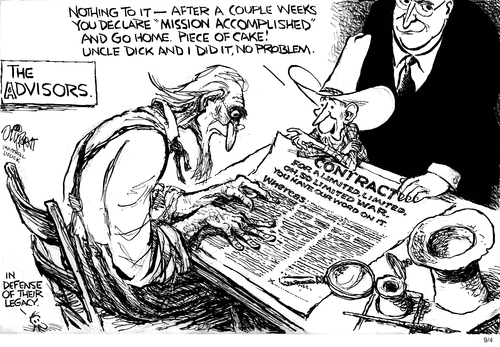 (Pat Oliphant via GoComics.com)
If it's true that "The government of Syrian President Bashar al-Assad on Monday said it welcomed a Russian proposal to avert U.S. military strikes by having Damascus turn over control of its chemical weapons to international monitors", and that "the United States 'would welcome a decision and action by Syria to give up its chemical weapons'" , then more power to the diplomats.
In the interim, in case your blood pressure is not as high as you would like, here's a little gift from Mark Ames at NSFWCorp:
Q: Is Putin Really Planning To Bomb Saudi Arabia?
(A: In 2008, Cheney Really Did Plan To Bomb Russia)

One of the wildest rumors about the Syria War going around last week claimed that Vladimir Putin ordered Russia's military chiefs to draw up plans for a full-scale military attack on Saudi Arabia if US-led forces bomb Syria…

Last month was the fifth anniversary of that war in Georgia. Most people in the West have forgotten about it by now, but it's a good time to refresh your memories. Western media and political leaders got that war completely wrong, blaming it on an allegedly aggressive, imperialist Russia out to "punish" Georgia for the crime of being a "Jeffersonian democracy" in Russia's backyard, as Georgia's spindoctors put it. What's even more frightening is how that war, misreported and mischaracterized as Russian aggression, brought us dangerously close to World War Three.

A couple of years after the Georgia War ended, it emerged that Vice President Dick Cheney and "several senior White House staffers" had wanted to start a war with Russia to stop their counter-offensive against Georgia. Cheney's idea had been to launch "surgical strikes" and/or to bomb Russian land forces using the Roki Tunnel, the only land link between Russia and South Ossetia, thousands of feet up in the Caucasus mountains…

This false framing almost allowed Bush Administration neocons to drag America into a war with nuclear-armed Russia. On August 10, 2008, just as Russian forces were pouring through the Roki Tunnel to push Georgian troops out of South Ossetia, American military C-130 transport planes were ferrying hundreds of US-trained Georgian soldiers and heavy equipment out of Iraq — where they had served as a loyal backup contingent for Bush, the third largest after the US and Britain — and into battle against Russian and Ossetian forces. That alone could've sparked war with Russia. Imagine if Russians started ferrying hundreds of Taliban fighters and heavy armor into Afghanistan to fight US troops…

Luckily for the rest of us, Bush's neocon national security advisor Stephen Hadley retained enough sense to realize that the Russians would respond militarily to any "surgical strike," and that would be the end of everyone's retirement golfing plans. Knowing how Cheney works on the sly, Hadley decided that the only way to stop him and the other neocon loons was to make Cheney's plans known to Bush, and to force Bush to take a clear position on war with Russia…

Now imagine if we'd launched "surgical strikes" against Russia, sparking World War Three, over a war that we'd completely fucked up and got bass-ackwards, a war that the New York Times and the EU admitted they had flubbed. Not only would we be hairless, toothless, wheezing and generally dead, but we'd also feel pretty goddamn stupid.

So when the same French intelligence source who correctly called the 2008 Georgia-Russia war tells me today that Putin ordered Russian forces to prepare for a full-scale attack on Saudi Arabia in the event of US bombings, I'm not inclined to dismiss it. I'm more inclined to find out why that rumor is out there, and what makes it plausible, aside from the general rule that anything awful is plausible in war, and aside from the fact that two of the main figures in the Georgia war — Putin and John McCain — are still around. (Recall that in an interview after the Georgia war, Putin blamed the McCain campaign for starting the war to help the McCain campaign's election bid, which isn't as crazy as it sounds. As I said, McCain's top foreign policy advisor, Randy Scheunemann, was also Mikheil Saakashvili's top US lobbyist and close advisor; Saakashvili wouldn't dare launch a war without at least some support from powerful Republicans.)

This brings me to the most obvious question: Why would Putin bomb Saudi Arabia? And a more serious question: What makes that rumor even remotely credible, bizarre as that may sound?

The answer involves a little-reported meeting between Putin and Saudi Arabia's powerful intelligence chief, Prince Bandar, on July 31 of this year. The Saudis and Bandar are the main backers of the Syrian opposition forces fighting against Bashir al-Assad's army. The Saudis back the whole range of opposition forces, including the Al Qaeda-linked al-Nusra jihadis, who are among the best fighters — maybe the opposition's only real fighters. Putin and Russia are the biggest backers of Assad's regime. So Prince Bandar came to Moscow on July 31 to try to hammer out a deal, but the details of that meeting remained a tightly held secret until a week later, when a story broke in Reuters claiming that Bandar had offered Russia huge incentives to pull support for Assad and allow the opposition forces to take over…

After a few days of silence, the Kremlin issued a terse response that no deal had been agreed to. A couple of weeks after that, towards the end of August, more details about the Putin-Bandar meeting emerged that explained the Russians' behavior: According to these later accounts, Prince Bandar's "carrots" came with some implicit-explicit threats. He promised that a Sunni-led Syrian government would not allow the jihadi radicals into power, and he reportedly also promised that Saudi Arabia would make sure that the Chechen and North Caucasus jihadis currently fighting in Syria with the Al Qaeda-linked outfit al-Nusra would not return to Russia after the war's end. Bandar went further, reportedly promising that the Saudis would use their influence (financial and otherwise) over radical Islamic fighters in Chechnya, Dagestan and other Russian regions to make sure no terrorist attacks would ruin the 2014 Sochi Olympics.

According to these later reports, Prince Bandar's implicit threat — that if Russia did not agree to abandon Assad, Chechen radicals would create problems in next year's Olympics — was not lost on Putin…

It was in the aftermath of these leaked reports that new rumors sprouted up last week alleging that Putin was so outraged over Prince Bandar's threat-by-admission that he ordered the Russian military to draw up plans to strike Saudi Arabia in response to a Saudi-influenced US military strike on Syria.

With that context in mind, the rumor doesn't seem so completely wild after all, even though I still don't buy it.For one thing, just as Russia would've been willing to go nuclear over South Ossetia, I'm pretty sure the US would be willing to send everyone to Hell, us included, to protect the oil fields in Saudi Arabia. Even that pacifist Jimmy Carter established the "Carter Doctrine" promising the End Times to any outsiders who mess with the Gulf sheikhs…

The other thing to come out of that Putin-Bandar meeting and the offers made was Syria's strategic importance to Russia. The Russians have lost most of their allies in the Arab world; Assad is pretty much the last one. With Assad, they have a Mediterranean port for their naval fleet, a reliable weapons client, and longtime personal relationships. Assad has also said he won't allow Qatar to build its vaunted natural gas pipeline through Syria and Turkey to supply the European Union. If it were allowed to go ahead, the pipeline would end Russia's gas monopoly over Europe, and with it, Russia's geopolitical leverage. The Saudis promised Putin that if their proxies take control of Syria, they'd make sure that Russia's natural gas dominance would be preserved, and Qatar wouldn't build its gas pipeline through Syria.

This coming from the same guy who admitted Saudis have the power to turn Chechen terrorism on or off at will — an amazing admission considering the Russia-Chechen wars have killed tens of thousands of people. Putin could be excused for questioning the reliability of the offer. As Andrei Soldatov of Agentura.ru put it: "In general it takes years for the Saudis to keep their promises." If and when Assad falls, it could mean a lot of things for Russia and Putin: Total irrelevance in the Arab world, an end to Russia's dominance of natural gas markets, humiliation and anger from the siloviki, and around the corner, a 2014 Olympics whose success or failure depends on Saudi and Qatari influence over jihadis based in North Caucasus. Meanwhile, inside of Russia, Putin's hold on power has never been weaker, his popularity never lower, and his paranoia has been making him increasingly eccentric, which is a little jarring coming from someone as cool, sober and controlled as Putin used to be….
Much more paranoia at the link, for the next 48 hours, or you could pay three bucks for the monthly NSFWCorps subscription.