Obamacare's exchanges go live in three weeks and three days… or as we count time, a gross of coffee spoons.
The big news this week is that actual pricing is starting to be released in a variety of states.  The Reality Based Community passes along the fact that Blue Cross and Blue Shield of  NorthCarolina released rates on everything they are offering on the North Carolina exchange/marketplace.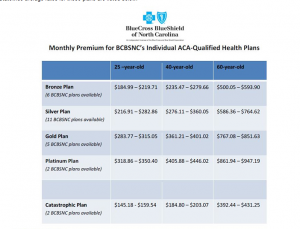 (Click to embiggen)
There is  massive variance in non-subsidized costs.  The cheapest is $145 for catastrophic coverage for a 25 year old while the most expensive is a platinum plan for a 60 year old at $947 per month.  Even looking within a single level for a single age, there are significant differences in price.
What are the factors that drive these cost differences?
The biggest drive of differential within the same plan is age.  PPACA allows for up to a difference of 300% between the premiums for the youngest person who can buy a plan on the Exchange to a 64.999 year old.  Age is an extremely good single predictor of medical expenses because as we get older, more things break down and recovery time gets longer.  Late teens and early 20 somethings tend not to have too many chronic conditions nor do they fall and can't get up.  Furthermore, this age group just tends not to use basic medical services as much as they should.  A 62 year old's body has started to break down more often than my 1977 Chevy Nova plus by that point, most people have at least a chronic condition of some sort.
The next differential driver is the actuarial level of coverage.  Catastrophic coverage is true "hit by a bus" insurance where the insurance only kicks in when a massive medical event occurs.  It won't help someone who has a clean broken leg, or needs an appendectomy or has an non-complicated pregnancy.  Catastrophic coverage is available on the Exchange for people under the age of 30, as well as people whose employers offer insurance but it is not deemed affordable insurance.
The vast majority of people will buy a "metallic" product.  Bronze has the lowest actuarial value at 60% while Platinum plans cover 90% of the expected average health care expenses of members.  The higher the actuarial value of the product that a person buys, the more the insurance company is on the hook, and thus the higher a premium the insurance company charges to cover their anticipated cost.  Doing some back of the envelope calculations, there is minimal pricing differentials within the lowest price metallic levels based on anticipated adverse selection usage rates.  I don't have their models in front of me to say for sure, but if there is adverse selection pricing, it is in the range of a good burrito to a decent lunch per month between levels.
Now within the Bronze plan for the 25 year old, there are six different plans being offered and their pricing is different.  There are two major drivers of the differentials.  The first is location.  Typically community hospital and individual provider pricing is cheapest in the inner ring suburbs of a major metropolitan area as there is significant competition and comparatively cheap land.  Within the anchor city of a metropolitan area like Charlotte, the basic hospital services and specialist services are a bit more expensive as the city is just more expensive.  Charolotte would also typically host most if not all of the very high end specialty services (transplants, high end trauma centers, high end cancer centers).  And once you get out into the boonies, pricing goes up again as there are very few providers out there.  So location will drive some premium pricing as someone living in the local burbs is cheaper to cover than someone living in the center city or the boonies.
Within a single level, the location of the buyer matters to some degree, but the more important provider network driver of differences will be the type of network selected.  I am betting that BCBS of North Carolina is offering a full network and a narrow network.  The full network will be effectively a clone of one of their current networks with a new marketing name on top of it.  The providers in the new full network will get paid commercial or near commercial rates.
The cheaper, but much more limited narrow network is a network that might have 50% of the doctors and 30% of the hospitals (including all of the high end services).  The reason why it is a cheaper network is that the insurance company can got to five provider groups whose current rate structures are based on Medicare and the following multiples: 150%, 148%, 127%, 165% and 150%  and make the following pitch: "We project that we'll have 10,000 new patients in your area who are willing to travel for services, we're paying 115% of Medicare, and we only need two of you… so who wants in?"
There is one other factor that can increase the cost of a plan. Tobacco usage allows an insurance company to apply a 50% surcharge on their age/location adjusted base rate for a given plan. 
To review, in descending order of cost drivers for the exchange plans are the following:
Age
Value of plan
Network breadth
Buyer location
Tobacco usage
There are a couple of important things that are no longer being considered in pricing policies.  The biggest one is gender.  Men tend to be cheaper than women from the insurance company perspective because men tend to use far fewer services (even when they should) and we can't get pregnant.  This fact is where the whining about the disadvantaged 23 year old male who is making $45,000 a year without employer/group sponsored health insurance and now he is getting screwed argument comes from.  Yes, he is getting screwed because he is actuarially dirt cheap to cover but is now paying into covering everyone else. 
The other big thing is health condition is no longer being considered.  This how community rating is implemented.  Everyone gets access to the same health insurance at the same rate structure.  A thirty something diabetic epiletic can now get coverage on the individual market; previously that person would have been underwritten out of the market.  So yes, the young triathelete is subsidizing their twin brother who weighs 400 pounds and is hypertensive, but that is any insurance scheme where the healthy subsidize the unhealthy.  There are other systems in place in Obamacare to try and get those with controllable risk factors under control.