Picked this baby from the garden tonight: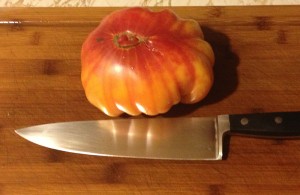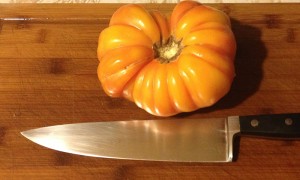 That's an eight inch Viking chef knife to let you know how big that tomato is. I have about a dozen more that will be ready in the next couple of days- it's some odd heirloom that is half orange and half red, but they become these monsters.
Also, I got sick and tired of looking at the old couches that Tunch had destroyed and I got upset every time I saw his empty lump on the couch, so I bought a used leather couch, lounge chair, and ottoman for a couple hundred bucks from my cleaning lady (so they were in pristine condition) because she was moving to Michigan and needed to unload them. I gave the other couches to the frat boys. And yes, I know you will hate the color and bitch at me, but I do think they are a step up: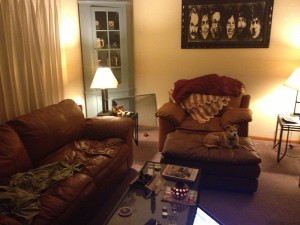 I think they are comfortable enough for me, plus, they don't remind me of the magnificent fat bastard, the dogs and Steve love them, and well, unlike those other god damned fluffy monstrosities, I can get in and out of them without a hydraulic lift.