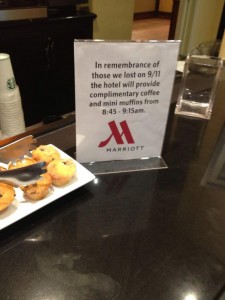 Via Gawker, here's a candidate for the most crass corporate co-opting of 9/11 ever. With the exception of the event's hostile takeover by Bush, Inc., of course.
As I was dropping my teenager off at school this morning, the radio announcer spoke the date, September 11th. The kiddo groaned, "Oh god, is it 9/11 today? That means we'll have to watch boring movies and talk about 9/11 in every class. Again."
She doesn't remember 9/11. She was a toddler then, and now she's a lanky high schooler. 9/11 feels like a dim artifact of history to her, like the Kennedy assassination felt to us Gen Xers — an event that scarred our parents but was experienced by us kids as an iconic video. Maybe this is a good thing.
[X-posted at
Rumproast
]