(Sunday scheduling fail by FYWP!)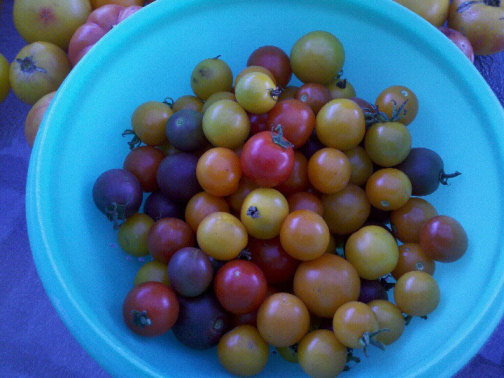 From commentor Satby:
I grow only heirloom tomatoes in my garden, along with the other stuff. It was a predominately cooler summer than normal here in SW MI, so the tomatoes were a bit slow to come in, but when they did, whammo! For the past week I've been canning, dehydrating (which has been more work than I think it's worth) and freezing what I can. As I live in orchard and fruit country, I've also been doing jams and jellies; low sugar with Pomona's Pectin, which I recommend to everyone.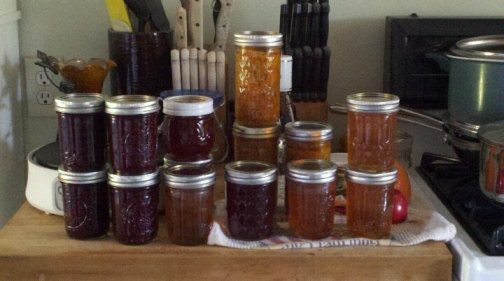 And then I discovered the Ball Fresh-Tech and tomato-basil jam…. and there's no going back. I've tweaked the basic recipe you can find online anywhere to use balsamic vinegar instead of lemon juice and it's such a hit with the skeptics that it's now one of the jams most people ask me to make. For those with an oversupply of cherry tomatoes especially, it's a great way to keep them from going to waste.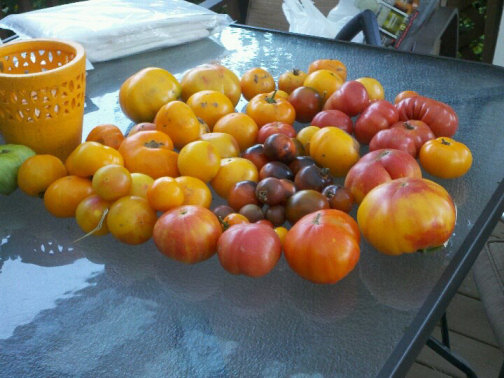 I went almost the whole month of July with tiny little green tomatoes (or none at all) on the plants because it was so cool, and then we had a couple of weeks of 90+ temps and they finally took off. But that meant that almost all of the tomatoes ripened at once, which left a lot of them rotting before I could get to them. I bought grafted tomatoes this year, and I'm unlikely to do it again; they weren't any more productive than the volunteers that sprouted from last years crops. And I had as a result about 20 plants; which I never would have planted on purpose for just me. I got black krims, a lot sungold cherries, and a couple of beefsteak types as volunteers; I had planted pinapples, Cherokee purples (those were a complete failure, or they sent me the wrong plants), indigo roses, chocolate cherries, and Orange Whoppers. What can I say? I like colors.

Recipe below the fold, as written online with my changes in parentheses where applicable. I usually make only apple butter and crabapple jelly, but I've been a woman unchained with this Fresh Tech jelly maker. It makes small batches, which is perfect for me, and so far I've made about 50 1/2 pints of different types of jelly, including a merlot. My new favorite kitchen gadget!
***********
What's going on in your gardens this week?
Tomato Basil Jam
Makes about 4 ½ pint jars

· 4 cups ripe tomatoes, peeled (I use a cherry tomato mix, so I don't peel them)
· ¼ cup lemon juice (I use ¼ cup mixed cider/balsamic vinegar)
· 3 tablespoons snipped fresh basil
· 3 cups sugar (OK, ick, I hate recipes that call for more sugar than fruit, so I use 1 rounded cup sugar)
· ¼ pat butter to reduce foaming
· 11 3/4ounce package powdered fruit pectin for lower-sugar recipes or 3 tablespoons powdered fruit pectin for low- or no-sugar recipes (I can get away with such low sugar because I use Pomona Pectin, which uses citrus calcium instead of sugar to make it jell. The result is sweet and savory and delish!)

1. Finely chop tomatoes (you can seed and core if using large ones, I only core them). Measure 4 cups chopped tomatoes; place in a 6- to 8-quart stainless-steel, enamel, or nonstick heavy pot. Bring to boiling, stirring occasionally; reduce heat. Simmer, covered, for 5 minutes (up to 10 if you want the tomatoes to break down more, I like the jam a bit chunky). Stir in lemon juice and basil.

2. In a small bowl combine 1/4 cup of the sugar and the pectin; stir into tomato mixture. Bring to a full rolling boil, stirring constantly. Stir in the remaining 2 3/4 cups sugar. Return to a full rolling boil, stirring constantly. Boil hard for 1 minute, stirring constantly. Remove from heat and quickly skim off foam with a metal spoon.

3.Ladle hot jam into hot sterilized half-pint canning jars, leaving a 1/4-inch headspace. Wipe jar rims; adjust lids and screw bands.

4. Process filled jars in a boiling-water canner for 5 minutes (start timing when water returns to boiling). Remove jars from canner; cool on wire racks. Makes 5 half-pints. (And if you don't want to hot process them, they make a fine refrigerator jelly).

I have to confess, I've only made this in my Fresh Tech Jelly maker. For the Fresh Tech with Pomona pectin: do not follow the normal directions of putting the pectin in first, instead put in the tomatoes, basil and vinegar or lemon juice, and 4 teaspoons of calcium water in and set Fresh Tech to "jam" (I add 2 extra minutes to the total). Mix 3 teaspoons of pectin into the sugar really well, and at the 4 minute mark when the machine beeps, add the sugar. I may give it a quick stir with a spatula at that point just to get the sugar mixed better. Put the lid on and get your jars ready because the jam will be done in about 18 minutes.