This, for one:
Gary Humes, a programs manager with the Navy, was entering the building where the shootings took place around 8:20 a.m. when he was met by people fleeing the building and warning of a shooter inside. He and more than 100 others ran to another building across the street, while others ran to the Navy museum nearby.

"I decided to go into work a little late this morning," he said. "I guess God was with me."" (from The Navy Times story on today's mass shooting*).
Should we thus infer that God was not with the dead and wounded?
I'm not going to get into the problem of evil in this space.  There are ways religious believers reconcile themselves to the obvious fact that bad things happen to good people — or at least people for whom the evil outcomes are undeserved by any reasonable calculation.  There are certainly logically coherent ways to understand the presence of evil in the world as a strong indicator of the absence of deity actively intervening in human affairs.  Neither of those true statements is in play here.
Rather:  hosannas like the one above are to me the markers of failed religion.  I don't me Mr Humes himself.  Dodging the kind of horror he did today would make anyone — me certainly – feel an almost giddy (and guilty) sense of relief.  He gets a pass from me on anything he says in the moment.  But it's still possible to read something in the verbal formula that someone in such straits reaches for in such moments of trial.  And the "God is with me" trope — that to me is the signal of a religious culture thoroughly getting it wrong.
Or, to put it in another frame, what would Jesus say?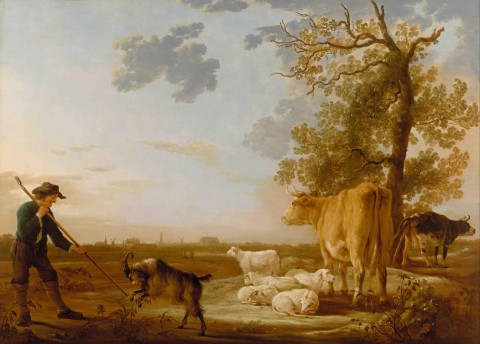 This, for example:
40 "The King will reply, 'Truly I tell you, whatever you did for one of the least of these brothers and sisters of mine, you did for me.'

…

45 "He will reply, 'Truly I tell you, whatever you did not do for one of the least of these, you did not do for me.' (Matthew 25)
Image: Aelbert Culp, Landscape with Cattle,  c. 1639-1649