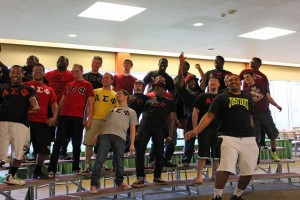 I hate to do this, but you all know that I am the Grand Chapter Advisor for my college fraternity, which is kind of unlike most college fraternities in that we aren't a bunch of trust fund douchebags with unlimited pockets, and we have a bunch of great kids from across the full spectrum of America. At any rate, we are running low on funds because some kids dropped out of school (meaning fewer dues to pay our insurance and operating costs). They are going to be doing some demolition work on weekends to make a couple grand for a local contractor, but for Homecoming, we are holding an open raffle for some steaks and crab meat. The price for a raffle ticket is 10 bucks, and you get three packs of Omaha steaks and crab meat, and it is all for a good cause.
If you are interested and want a chance at winning some steaks and helping some really good kids (and, by proxy, reducing yet another stress point for me as I continue to juggle ways to keep the house financially solvent), the link to enter the raffle is here, and we will ship them to you.
I do everything I can for these boys- I have paid dues for at least four members and had them work it off at my house, I've catered all their recruiting and formal events out of my own pocket, I've even dropped a grand to drive the kids across country in a rental car to stay in a hotel while they are at a three day conference, but I can't dig us out of this hole. I hate using this website for this bleg, as it is not political or related to animal rescue, and I know many of you hate the whole concept of fraternities.
We reorganized three years ago, and we are still saddled with a bunch of old debt from before, and if we can just make it through this hump, we'll be good, because we have spent three years building alumni support and are going to have an unprecedented turnout on Homecoming, and we really are on the cusp of finally making it after decades of the Chapter floundering. We have good leadership, we have built an alumni network and have weekly calls. We just need a little bit more help to keep this thing alive for a while before we are out of the woods. I'm so sick and tired of lying in bed wondering where the money is going to come from for these guys, but I really feel like we are reaching critical mass with out alumni outreach.
Regardless, trust me, your help would be appreciated, though, because I am really at my wits end. I just want these kids to have the same kind of positive experience I had and that so many other kids with more means have. Plus, you might win some awesome steaks!