With a h/t to my spouse, this piece from a couple of days ago offers a beautiful (not really the mot juste) window onto the multiple levels of fail of US medical business and (or rather, hence) practice.  The action gets going as a young physicians assistant named Andrew T. Gray describes waking up an upset stomach, which over the course of the day blossoms into really nasty pain.  Then comes the twist:
Crawling into bed, however, I realized that my pain had coalesced in the right lower quadrant of my abdomen. Could it be appendicitis?

Panic flooded me. After six weeks at my new job, I now qualified for health insurance, but I'd neglected to fill out the necessary paperwork.

Only an hour after leaving the clinic, I returned. Almost hysterically, I completed and faxed in the insurance forms.

"Go to the emergency room right now," urged one of my supervising physicians.
Instead, Gray waited overnight so as to reduce the odds of insurance company shenanigans.  The next morning, though he can't wait anymore:
Waiting for the ER doctor, I recalled that, at some point in my schooling, I'd read a Swedish study about treating appendicitis with antibiotics. Googling the study on my smartphone, I found it.

By the time the ER resident approached, I was ready.

"I don't have health insurance," I said calmly. "Can I be treated with antibiotics instead of surgery?"

"I doubt they're going to let you do that here," he said. "But keep expressing interest."

When the ER attending physician came in, I repeated the question.

"Absolutely not," he replied flatly. "This is America, not Sweden. If you have appendicitis, we operate."
The story gets better — which is to say from a policy and medical care point of view, worse.  Go read the whole thing.
As to its relevance beyond itself. Well, Gray's telling an anecdote, of course, a single encounter in a system that touches millions every day.  Even so, there are at least two key points I can draw:  (a)  there are structural problems with the culture of medical practice in the US that both drive up costs and affect (not for the better) patient outcomes.  "This is America…we operate."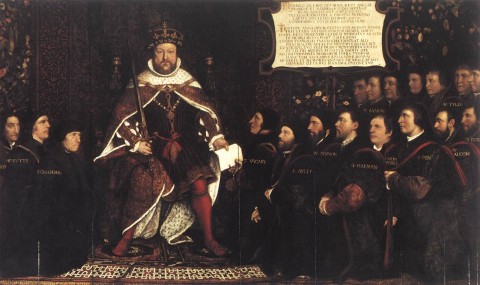 And (b):  there are lots of reasons medical costs in the US seem both arbitrary and excessive. But (a) they are and (b) it actually matters to know what happens elsewhere, because from such knowledge it finally becomes much easier to see that US health care is exceptional alright — but not how the foaming hordes raving against tyranny in the form of Obamacare would have it.  We sure do lead the world in what we pay. Just not in getting what (we think) we're paying for.*
*This is not to say that for particular conditions in particular cities there is no better place in the world to receive care than, say, my current dwelling place, Boston.  But brilliant tertiary care available  to those clued in and covered in just the right ways doth not a system make.
Image:  Hans Holbein, Henry VIII and the Barber Surgeons, 1543.