Dear Makers of Qrunch Quinoa Burgers:
I am writing to express my dissatisfaction with the product heating instructions your company provides on Qrunch Quinoa Burgers packaging and to beg you to alter it immediately. I attempted to enjoy a Qrunch Quinoa Burger for lunch a short while ago, and to describe the ensuing mess as a clusterfuck would be a disservice to both clusters and fucks.
When I first retrieved my package of Qrunch Quinoa Burgers from the freezer and consulted the instructions, I was very happy to see that it was possible to heat the patties in a toaster because I dislike the texture of microwaved food and was in too much of a hurry to use a skillet: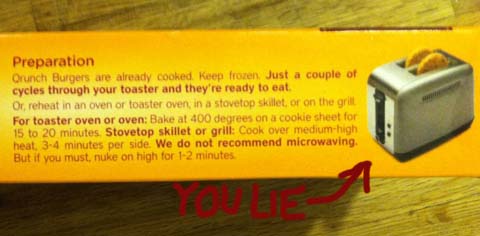 It never occurred to me that the photo of the toasted Qrunch Quinoa Burgers that illustrates your instructions was misleading. But it's a filthy lie, employing as it does a half-scale replica of an actual toaster to lull overly credulous consumers into thinking they can safely toast their patties.
See how the patties in the picture extend well above the top of the toaster slot? In reality, Qrunch Quinoa Burgers disappear into the slot completely, coming to rest about an inch BELOW the top of the slot — even before the toast-lowering lever is engaged.
No matter, I thought, watching my patty disappear into the bowels of my toaster. I'll just unplug the toaster after the toasting operation is complete, use a fork to retrieve my patty, and before you can say "Jack Robinson," I'll be enjoying my Qrunch Quinoa Burger.
Alas, I was entirely too optimistic! Here is what happened when I tried to retrieve my patty: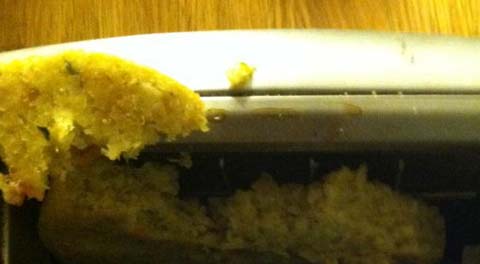 And then it got even worse, with the patty completely disintegrating in response to my frantic attempts to extract it from the toaster. Finally I had to turn the toaster over onto its side to leverage gravity. The result was an eviscerated patty adulterated by random toaster shakings. Worse yet, IT WAS STILL COLD, even though I'd followed the instructions and run two cycles: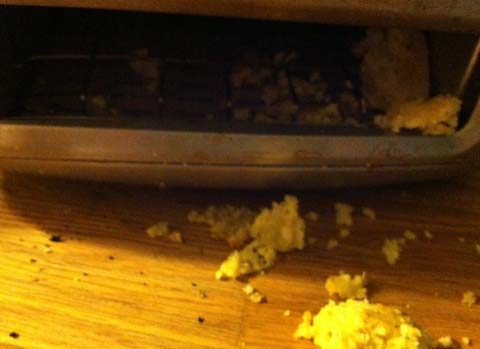 I'm not blaming you for the fact that it has clearly been too long since I've cleaned my toaster. I'm not even expecting an apology or recompense. I'm just begging you, in the name of corporate good citizenship, to change the heating instructions copy on your packages and spare other consumers the pain, disillusionment and toaster wreckage I've suffered today.
You can either remove the toaster suggestion completely or alter it to alert consumers that they'll need to use a special miniature Qrunch Quinoa Burger toaster and THREE heating cycles. I appreciate your prompt attention to this matter.
Sincerely, etc.
[X-posted at
Rumproast
]