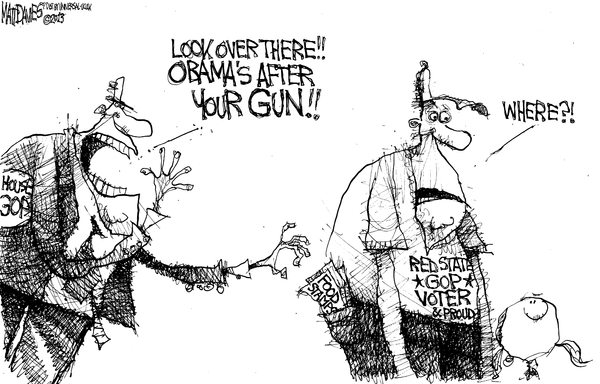 .
Alex Pareene knows what he's talking about:
House Republicans voted yesterday to cut $40 billion in funding for SNAP — the anti-poverty program commonly known as "food stamps" — because, as Jonathan Chait ably points out, they are dedicated top-down class warriors. Republicans voted to gut SNAP not long after they voted to preserve agriculture subsidies, and indeed to spend more on farmers than bleeding-heart liberal President Barack Obama wants to. Crop subsidies overwhelmingly benefit rich (and white) people. SNAP, not so much. These are the sorts of positions that make "they hate poor people" sound not particularly hyperbolic….

The Institute for Research on Poverty at the University of Wisconsin-Madison published a report in 2006 on the failure of welfare reform as politics, and not as policy. (As policy it was a huge success if you consider the goal to be "getting people off welfare" and a mixed bag if your aim is "provide adequate levels of support for needy people.")… The paper seeks to answer two questions: Whether welfare reform improved public perception of, and support for, government assistance to the poor (it didn't); and whether embracing reform led more people to support Democrats. ("We find no evidence that the Democratic Party benefited from welfare reform," the authors say.) Nothing Morris and Reed predicted came to pass. Democrats gave conservatives a public policy victory and in return they won nothing besides perhaps a short-lived "truce" on the use of explicitly racial "welfare" attacks against Democrats in national campaigns. That truce lasted approximately as long as it took for Democrats to regain the White House. And now Republicans can point to this reform — a bipartisan reform pushed by a Democratic president! — as precedence for their proposal to slash spending on poor people even more.

If you want to know why left-leaning Democrats oppose "modest" "reforms" to Social Security and Medicare, look at food stamps and welfare. If you want to know why even a change as "progressive" sounding as "means testing" — lowering benefits only for richer retirees — is opposed by liberals, look at food stamps and welfare. Co-opting the conservative line on anti-poverty programs did nothing to halt conservative attacks on anti-poverty programs. Programs aimed strictly at the poorest Americans are always and forever under assault from a Republican Party that still has not dared to cut spending on programs — like Medicare and crop insurance — that also benefit the rich. The "Grand Bargain" is always going to accelerate the destruction of the safety net.
***********
@ZaidJilani "and decrease the surplus population."

— billmon (@billmon1) September 20, 2013