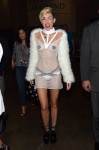 Bless her heart, and her gleeful expression. I went over to GoFugYourself to see if anyone had committed an especially newsworthy fashion incident at the Emmys, and found this:
… CIRCULAR PASTIES — like wee coasters for her nipples… She's wearing fishnet, stickers, panties, and a polar bear…
… but what stood out for me (oh, click the link, ya lazy) was that those panties are wearing a safety harness. That's very public snark done right, my friends.
If Ross Doubthat's or Katherine Jean Lopez's Monday-morning posts consist entirely of a string of nonsense syllables, now you know why.