Via Paul Krugman, a quick link and thought as I scramble elsewhere: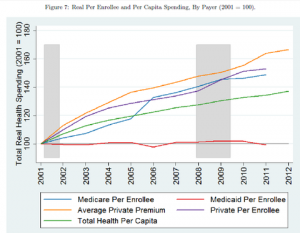 The red line is Medicaid spending over the past decade.  Everything else is increasingly rapidly, while Medicaid spending stayed flat.  And it stayed flat because Medicaid says no.
Second thought from Time Magazine on Las Vegas hotel economic structures as an insight into hospital economic structures:
 Time Magazine in August had a good piece on Las Vegas's hotel and gambling industry that has an interesting nugget of explanation for hospital pricing:
A 5,000-room casino hotel that runs 24/7 has high operating costs, and it's the gambling action that has covered them. The magic of a casino hotel is that once the costs are covered, profit mounts prodigiously–in accounting jargon, this is a business with very high operating leverage.
Hospitals and most other medical practices are the same way. Just opening the doors is extremely expensive as the fixed costs are very high. However, the marginal cost of treating the next patient for most situations (high end drug treatments excluded) are not that high. Hospitals with high census or heads in beds counts are able to use the high usage of their facilities to cover fixed costs and then operating costs.