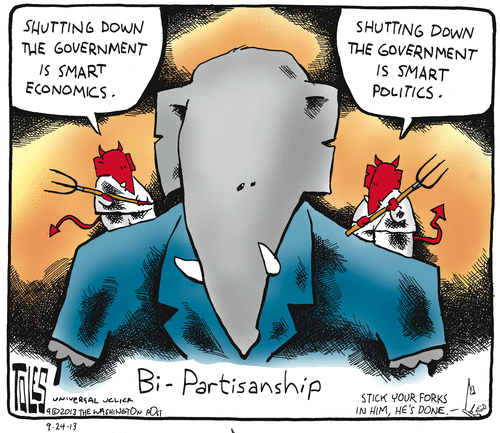 (Tom Toles via GoComics.com)
.
Cue the world's tiniest violin. Dave Weigel, at Slate:
The Most Powerless Republicans: They're Not Who You Think!
Monday morning, former New Hampshire Sen. Judd Gregg—a Republican who was briefly and abortively Barack Obama's choice to run the Commerce Department—published a column that excoriated his party. It was massively popular, as columns excoriating one's own tribe tend to be, especially when the topic is debt limit Mexican standoffs. "The rigid stance will also cause massive collateral damage to all Republicans," wrote Gregg. "Even those who may not support it will be harmed by the label of incompetence that will stick to the whole party as a consequence. The idea is being put forward by people who do not really care what the impact is of a default or a near-default. These are folks who have never governed and are not inclined to do so."

Online, where the column was shared 1,000 times on Facebook, Gregg was not identified as anything but a former senator. He's moved on, though — he runs the Securities Industry and Financial Markets Association. Gregg's panic looks even starker when put next to the letter written by former Michigan Gov. John Engler, a Republican who now runs the Business Roundtable…

Pity the Republican who quits politics to become a business lobbyist. He can ask his former colleagues to do what's in the business association's interest, but he's got less oomph than any random staffer at Heritage Action or a blogger at Red State… [I]f you're a Republican elected in 2010 and re-elected in 2012, you've figured out that you can win the support of a business interest that generally distrusts Democrats and go about ignoring their high-profile cries for regulation or a sequestration fix.
My emphases, of course. Weigel is paid to be sympathetic to these "conservatives", but of course we do not labor under the same burden. If the Robber Baron branch of the GOP comes to open warfare with the Talivangelical "purists", I will be on the sidelines rooting for injuries.
*************
With that cheering thought in mind, what's on the agenda for the evening?