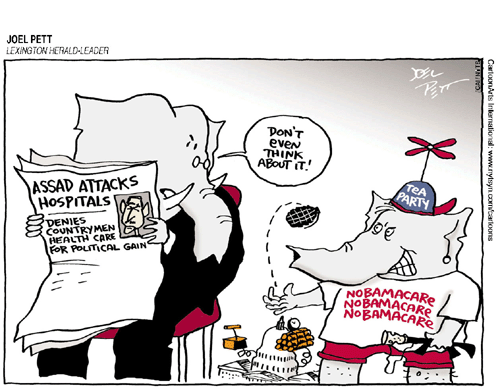 (Joel Pett via GoComics.com)
Via Paul Constant, Talking Points Memo has another tile in the mosaic of GOP opposition to affordable health care:
Americans will be able to register to vote when applying for insurance through Obamacare, a White House official told TPM Tuesday, despite reports to the contrary and outcry from congressional Republicans…
And Mr. Charles P. Pierce gets an uplifting quote from "Jonathan Gruber, the MIT economist who was central to the adoption here in the Commonwealth (God save it!) of what we still like to call Romneycare":
… "The analogy I like to use is a building that's burning down. The number of people covered by employer-based health-care plans is dropping by a percentage point a year. The system is falling apart. So you put in a new safety net. That means a few more people are going to come in. If you're not willing to risk making some things worse, you're never going to make anything better. My estimate is that 80 percent of the people are not going to feel any change at all, and that 17 percent or so are going to find that things are better, and that about two or three percent will be worse off, and those are the people who benefit from the discriminatory nature of health-insurance at the present time. If health-insurance companies can't discriminate any more, those people will have to pay a little more. When we decided that people couldn't discriminate in what they paid black people or women any more, people had to pay more because employers couldn't discriminate in what they paid black people and women. Was that a bad thing?…
***********
What else is on the agenda for the evening?