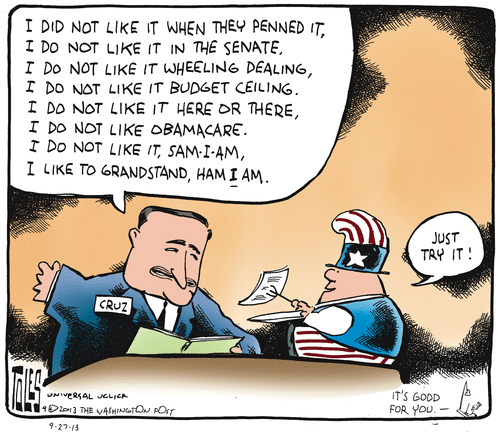 (Tom Toles via GoComics.com)
Jon Chait, NYMag:
… Most of us expected, at some level, that the election would cool the right's apocalyptic fervor. Instead, the opposite has occurred. Paul Ryan candidly explained the calculation: "The reason this debt limit fight is different is, we don't have an election around the corner where we feel we are going to win and fix it ourselves. We are stuck with this government another three years." This is a remarkable confession. Republicans need to compel Obama to accept their agenda, not in spite of the fact that the voters rejected it at the polls but precisely for that reason.

The exhaustion of electoral channels against Obama has spurred the party to seize power through non-electoral channels. Their opening demand that Obama sign Mitt Romney's entire economic plan into law in return for avoiding a debt default, while historically bizarre, followed perfectly from their legislative strategy this year…

Their aversion to compromise has been accepted as settled fact in Washington, reimagined not only as a new normal but as the way it's always been. Republican Dana Rohrabacher defended the use of debt-ceiling threats to pry concessions from Obama like so: "People have to recognize there's never any compromise until the stakes are high. In our society, that's the nature of democratic government." That is completely false. American political parties have forged compromises for decades without high-stakes threats to bring them to the table. Not to mention the fact that, by "compromise," Rohrabacher means unilateral concessions by the president…

The hostage dynamic of the debt-ceiling fight has created a dangerous, historically unusual set of circumstances. One aspect of it is to set up a precarious, high-stakes negotiation, the failure of which could set off large, immediate, and irreversible damage. The second is to reset the balance of power between the president and Congress, allowing the latter to compel the former to submit to its agenda without concessions. Both these changes would permanently and dangerously alter the character of American government….
***********
That being said, what's on the agenda for the start of the weekend?