The breathlessly awaited Saturday meeting of House GOP caucus is over, and we now know what these feral children want in exchange for not blowing up the American economy:
 The federal government on Saturday barreled toward its first shutdown in 17 years after House Republicans, choosing a hard line, demanded a one-year delay of President Obama's health care law and the repeal of a tax to pay for the law before approving any funds to keep the government running.
In all the talk about defunding or delaying Obamacare, there's one thing that hasn't been discussed  much, certainly not by the Village.  That would be what  delaying Obamacare would actually mean in the real world.
There, we're looking at dead Americans, needlessly and avoidably cut down before their time.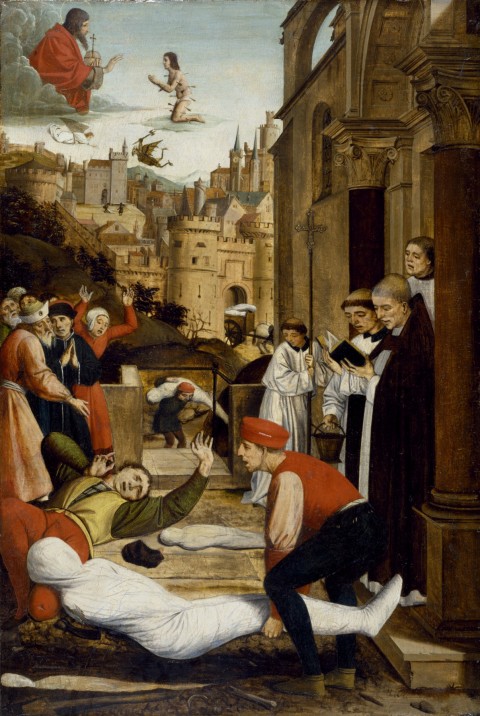 Here's the train of thought behind that claim:
The primary goal of the health care reform is to cover as many Americans who lack insurance as possible. As of this year, that is in the neighborhood of 48 million people — roughly 15% of the total US population.  Under the terms of the ACA, that number will be cut by 14 million next year, with more to come as the law persists.  That's still well short of the goal for a civilized society, in my view, but 14 million people with access to health care is a real and important social and ethical good (not to mention an economic plus, in many analyses).
Those 14 million people — 14 million individual human beings with hopes and aspirations and real desires to avoid pain, misery and worse — are the primary victims of the morally bankrupt cabal that calls itself the House Republican caucus.  If they were to get their way and either fund the government or commit to allow the Treasury to continue to meet obligations already undertaken only on condition that those 14 million must once again go without health care coverage then the suffering that follows is on their heads.
In that context, it's important to note that this means that the House GOP caucus will thus almost certainly be guilty of causing some significant number of unecessary, premature deaths.  The study of the connection between mortality and health insurance status is somewhat complicated, and a couple of very well publicized studies recently [PDF] have suggested that there isn't any correlation and/or that Medicaid coverage in particular makes things worse.  Those studies and even more, the trumpeting by such deep thinkers as our old friend, Megan McArdle, have in their turn been strongly criticized, to put it mildly, and they are outliers against a background of some decades of work that show real and deadly links between whether or not you are covered and whether or not you die.
To put this all in a nutshell, take a look at the good recent-ish summary of the state of play of the uninsurance-death argument  comes from Dr. David Gorski writing in the Science Based Medicine blog.  The key point:
analysis of survey data from patients who were uninsured but then became old enough to be enrolled in Medicare suggests that "acquisition of Medicare coverage was associated with improved trends in self-reported health for previously uninsured adults, particularly those with cardiovascular disease or diabetes." In summary, there is a large and robust body of evidence suggesting that people do, in fact, die because of lack of health insurance.

…

J. Michael McWilliams, MD, PhD, Assistant Professor of Health Care Policy and Medicine at Harvard Medical School and an associate physician in the Division of General Medicine at Brigham and Women's Hospital … speculates:

How many lives would universal coverage save each year? A rigorous body of research tells us the answer is many, probably thousands if not tens of thousands. Short of the perfect study, however, we will never know the exact number.
In other words, it's hard given our current state of knowledge to point to John Doe over there, and say that lack of coverage killed him.  The Republican House doesn't have to worry about answering a bill of indictment charging them in Mr. Doe's murder.  But next year, were the House Republican branch of the Bolshevik party to succeed in delaying (or killing) health care reform, the some significant number of uninsured Does and Roes will die.  My truly primitive back of envelope calculation yields an estimate  of the number to be sacrificed to meet Republican Congressional priorities in the single digit thousands.  Let's just say the death toll would be on the scale of  a couple of 9-11s.
The men who flew planes into the towers were terrorists.
What, then, should we call the House Republican Caucus, and their Ted Cruz-led Senate colleagues?
As our Roman friends would have said:  "res ipsa loquitur."
One more thing:  Factio Grandaeva Delenda Est.
Image: Josse Liefernixe, St. Sebastian interceding for the plague-stricken,  1497-1499.