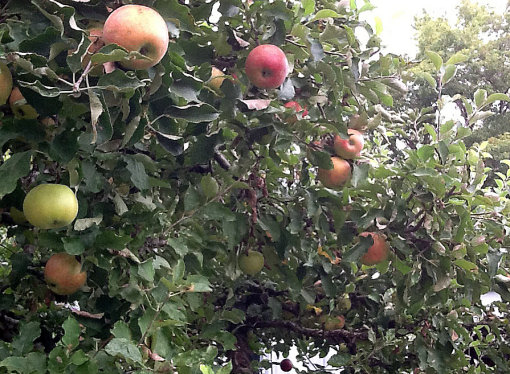 .
From faithful commentor Marvel:
I guess it's really Fall in the Willamette Valley — the first Canada geese of the season flew overhead as I pulled up our tomatoes yesterday. There's no turning back now.

The veggies in our Fall & Winter garden are enjoying their first taste of blue-sky freedom (we removed their summer-weight fabric row covers and will wait a few weeks before installing their 6-mil poly cold-season covers). We'll try to pick the apples (Jonagolds) before they fall this year — our dog Sally has a sweet tooth and can really put on weight if she gets to too many of 'em.

The cabbage and kale matured a bit early this year, but unless we get an unusual blast of Fall warmth, I think they'll wait in-place for harvest as needed. About half of the cauliflower have ripened (and we'll pluck them from the beds soon); the rest will over-winter and fruit-up next Spring.

The carrots and beets are coming along nicely, but of 70-some parsnip seeds sown in the same bed, I see only about a dozen plants — these were all planted at the same time [8/1] using a tried/true seed tape method, so I'm not sure whether I should blame myself or my seeds.

And we'll see how the shelling peas fare — they have a c-h-a-n-c-e of producing a bit if the warmish weather holds.
***********
What's going on in your gardens this week?