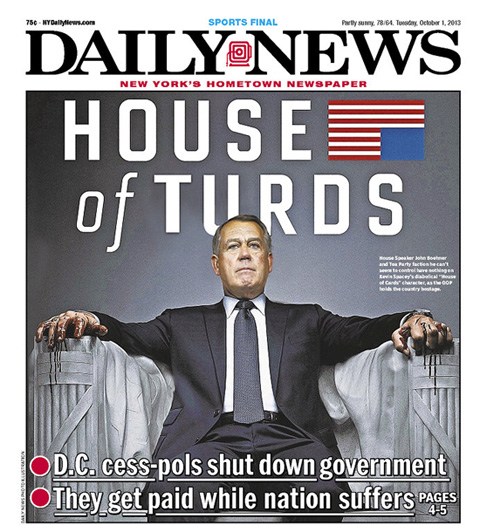 Well! How is your local news covering the shutdown? My media market paper also features a photo of Boehner, in which he looks somewhat poleaxed, with Cantor lurking in the background.
RE: the photo above, via TPM:
Under the headline "House of Turds," the latest cover of the New York Daily News shows Boehner seated at the Lincoln Memorial with blood dripping from his hands — a send-up of the popular Netflix series "House of Cards."
Uh, I don't think that's supposed to be blood…
Also, my local news channel app just informed me that President Obama will address the government shutdown in a statement at 12:25. Good. I'm hoping he takes a tone similar to yesterday's, in which he made it clear who the miscreants are. He didn't sound ready to negotiate with the anarchist wing of the plutocrat party then, and I sincerely hope he holds firm today.
Please feel free to discuss whatever.