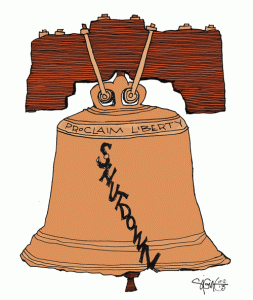 (Signe Wilkinson via GoComics.com)
Science fiction novelist Larry Niven wrote about a race of carnivorous aliens whose word for "diplomat" literally meant "Speaker to Animals". I think of Dave Weigel as my "Speaker to Republicans". He's doing a wonderful job of covering the current GOP shutdown, including the GOP's attempt to politicize the WWII Memorial:
The heartbreaking predicament of the Honor Flights emerged yesterday as a flash point for anti-shutdown anger. Quickly, inevitably, the story of elderly World War II veterans taking trips to see their memorial in D.C. became a political cause for Republicans. (I spent the morning at the memorial, with a story coming later today.) On Tuesday, Park Police put up very little resistence when a Mississippi-heavy crew of Honor Flight vets showed up and Mississippi Rep. Steven Palazzo moved a flimsy fence to let them in. Later in the day, conservatives glommed on to reports that the Park Police—i.e., the Obama administration—would handcuff future veteran-tourists….

At the memorial, Park Police put up no resistence to the protesters, allowing congressmen and Honor Flight organizers to move a fence and then telling reporters that the whole affair was a First Amendment exercise. That didn't stop a series of congressmen from hectoring Park Police and demanding answers, as if they were not, themselves, capable of ending the shutdown.
Weigel's also got a photo gallery of Tuesday's sideshow:
… Rep. Michele Bachmann was the first member on site today, even though the delegations were not from Minnesota… At 11 a.m., when the Honor Flight-ers arrived, members of Congress gathered in front of the entrance closest to the tour buses and made a show of rolling back the barricade.

This was half-welcome, half-irritating. Sen. Claire McCaskill talked openly about how annoying it was for members of Congress whose states weren't even represented in the delegation to take up space at the entrance.

It did look strange, at times, members of Congress folding into a crowd of veterans who, on a normal day, might only be accompanied by a local news crew. Here's a shot of Honor Flight-ers singing "Amazing Grace," joined by Sen. Pat Roberts and Rep. Kevin Yoder—the latter of "nude swim in the sea of Gallilee" fame….
Roy Edroso at Alicublog, another experienced observer, reports that the mid-range semi-pros of the Wingnut Wurlitzer — PJMedia, Judicial Watch, Breitbart.com — are busy convincing each other that this time, for sure, "Ben-geezer" will be the Obama Administration's downfall. RNC Chairbeing Reince Preibus even made an offer to pay for private security guards to keep the monument open:
… Priebus also put in a bid to have the Martin Luther King Memorial taken away and broken up for driveway gravel. Hey, as long as he can pay for it, right?