My friend Ann went down to join this yesterday and so did the daughter of regular BJ commenter "Botsplainer':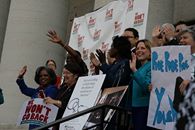 With her two-week-old son in hand, Cleveland gynecologist Lisa Perriera told demonstrators at the Ohio Statehouse on Wednesday that new laws limiting access to abortions and other women's health care are creating unnecessary hurdles for her patients.
Perriera said that because of the laws she recently had to require a couple forced to end a pregnancy for medical reasons to listen to the fetal heartbeat and undergo an ultrasound to determine the pregnancy's viability before sending them out of state for a legal late-term abortion.
"I'm here today to speak in opposition to the continuous assault on comprehensive reproductive health care by our state elected officials and to demand that Ohio politicians get out of my exam room," Perriera told the crowd of several hundred at the "We Won't Go Back" rally.
Participants from more than 50 women's groups, labor unions and elsewhere hoped the rally would draw the attention of Republican Gov. John Kasich and GOP lawmakers who control both chambers of the Legislature and favor restriction abortion.
Demonstrators waved signs attacking Kasich and other male leaders for effectively de-funding Planned Parenthood and passing abortion-related restrictions on Ohio's publicly funded hospitals and on counselors at taxpayer-funded rape crisis centers.
The president of Ohio Right to Life predicted the event would do little to sway opinions on abortion. "It's a political stunt. It's nothing more than a charade," Mike Gonidakis said. "It won't move the needle at all in the state."
Completely dismisses those pesky females because after all, what do they know? Stop with the charades, ladies. Mr. Gonidakis is on to your wily ways.