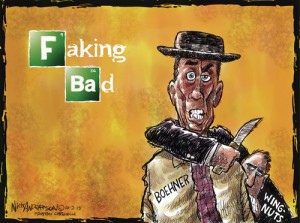 .
Timothy Egan, in the NYTimes, condemns the Repubs to the "Wrong Side of History":
Sarah Palin finally got her death panels — a direct blow from the Republican House. In shutting down the government, leaving 800,000 people without a paycheck and draining the economy of $300 million a day, the Party of Madness also took away last-chance cancer trials for children at the National Institutes of Health.

And now that the pain that was dismissed as a trifle on Monday, a "slimdown" according to the chuckleheads at Fox News, is revealed as tragic by mid-week, the very radicals who caused the havoc are trying to say it's not their fault.

It's too late. They flunked hostage-taking. About 30 or so Republicans in the House, bunkered in gerrymandered districts while breathing the oxygen of delusion, are now part of a cast of miscreants who have stood firmly on the wrong side of history. The headline, today and 50 years from now, will be the same: Republicans closed the government to keep millions of their fellow Americans from getting affordable health care…

You have to step back from the breathless tick-tock of the 24-hour news cycle to put this grim chapter in larger perspective. "Can you remember a time in your lifetime when a major political party was just sitting around, begging for America to fail?" So asked a perplexed Bill Clinton a few days ago.

The answer is no. What kind of failure are we talking about? Not just to equity markets, jobs, the mechanics of daily life in the world's biggest economy. The shutdown stops research on Alzheimer's disease, Parkinson's, cancer treatments. Two-thirds of the employees at the Centers for Disease Control were sent home. Many food inspectors, people who train air traffic controllers, anti-terrorism experts — all furloughed. And shed a tear for Yosemite National Park on its 123rd birthday Monday. America's Best Idea — as the parks are called — couldn't compete with America's Worst Idea, the Tea Party Republicans….
Be sure to read the whole thing.
What's on the agenda for the end of this Very Bad, No Good week?