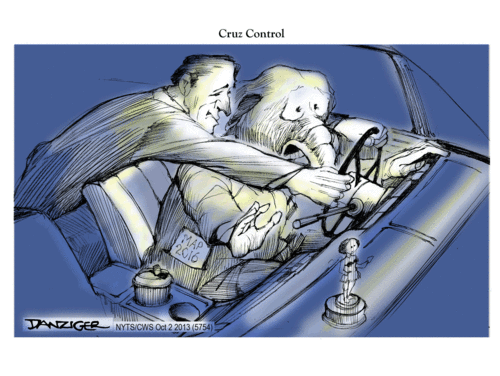 (Jeff Danziger's website)
Alex Pareene, at Salon, explains "How Ted Cruz is coordinating the (incoherent) conservative shutdown strategy":
… We sort of knew that while Ted Cruz was acting in defiance of Senate Republican leadership, he had a merry band of followers, consisting of a couple of other senators and a larger bloc of hard-liners in the House. Cruz is leading this unofficial new caucus along with his stalwart ally, Sen. Mike Lee, who is just as right-wing as Cruz but less telegenic. Cruz and Lee have been driving the entire GOP message on the shutdown even though they represent, and have been meeting with, only a fraction of congressional Republicans. The "let's just fund veterans and parks" thing? That was them…

Allow me to make a point I've made before: The reason conservatives blew up about "Journolist," the notorious liberal media email listserv, is because they assumed liberals coordinate their messaging the same way that conservatives traditionally have. So the fact that conservative media people are working directly with a Republican senator and activist conservative groups to develop and refine their shutdown related memery and arguments is also unsurprising. Spending yesterday fixating solely on veterans trying to visit a war memorial is not an idea that simply occurred spontaneously to everyone in the right-wing press.

What's funny about all of this, though, is how much it just reinforces the insane bubble that all of these people — conservative members of Congress, conservative media people and professional conservative activists — live their entire lives in. They are all talking to each other, and only to each other. The fact that the conservative position is deeply unpopular, the fact that conservative strategy is incoherent and self-defeating, none of that is reaching them. John Boehner and Ross Douthat know what's going on. Rep. Tim Huelskamp only knows what he reads at RedState and what he hears from people who only read RedState….

Republicans have no agreed-upon leader, their supposed policy agenda completely changes month to month, and they're just making up their strategy on the fly. The one thing they're good at is talking to each other, and that's just making everything worse….
More details at the link.
ETA: Why people hate debate-team champions…

(H/t NYMag)