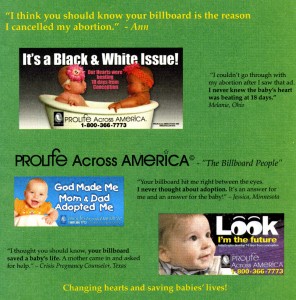 This is part of a flyer from Prolife Across America (click to embiggen) which, of course, was tucked in a copy of the Catholic Courier. They call themselves "The Billboard People", because they spend their money putting up billboards that are supposed to prevent women from having abortions. But let's not buy their Disney version: you know damn well that, like most other fundamentalist initiatives, it's just as important that women who did have abortions feel judged and shamed about what they did. The whole folder is one of the most cheerful and proud pieces of political literature I've ever seen. The message of the billboards is fairly hard-edged, but the pitch to give is not.
When the history of the last thirty or so years of American politics is written, the person who gets it right will have a lot to say about the "Pro Life" movement. It embodies everything about how a vocal minority can dominate our politics. It shows how laws the minority doesn't like can be essentially nullified in large parts of the country by throwing sand in the gears of implementation, using a combination of constant protest and unconstitutional laws passed by state and local government. It shows how an unrelenting PR campaign of lies and half truths can make something perfectly legal grossly shameful. It shows how mainstream churches can become politicized arms of one party (the Catholic Church, once considered mainly Democratic or just centrist, is a great example). And it shows just how much money can be raised off of a single issue, enough for grifters to grift for a lifetime.
I don't think it goes too far to say that the Obamacare shutdown strategy and tactics come from the far right's experience with Roe v Wade. The base is used to adopting a convenient anti-federalism whenever it suits their political ends, hence the refusal to create state exchanges even when it costs big money. The base is used to having a few single issues where they demand absolute loyalty from their Federal representatives: Obamacare is now on the list with abortion and guns. And the base loves the sweet lies they're told, it's just that the lies now come from Fox rather than some blood-spattered 16mm film shown in church basements across the country like they did in the 80's.
One more similarity: the Democrats thought they won on abortion, and they thought they won on Obamacare. Let's give them both a few more years before we decide the real winners and losers.