No, Sen. Reid.  Tell me what you really think [Politico link]:
"He's a coward," Reid angrily said, referring to Boehner's private push for federal health care contributions for lawmakers and their staff. Boehner later backed legislation to end those subsidies in order to win points with House GOP conservatives. "He's a coward!" Reid exclaimed. [via]
Challenge to the commentariat:  design the holiday cards those two will exchange.
And then there's everyone's least favorite Texan.  And I do mean everyone:
And on Wednesday at a private luncheon, several Senate Republicans — Dan Coats of Indiana, Ron Johnson of Wisconsin and Kelly Ayotte of New Hampshire — assailed Senator Ted Cruz of Texas, who has led the movement to block funding for the health law.

Ms. Ayotte was especially furious, according to two people present, and waved a printout from a conservative group friendly to Mr. Cruz attacking 25 of his fellow Republican senators for supporting a procedural vote that the group counted as support of the health law.

Ms. Ayotte asked Mr. Cruz to disavow the group's effort and demanded he explain his strategy. When he did not, several other senators — including Mr. Johnson, Mr. Coats and even Mitch McConnell, the minority leader — joined in the criticism of Mr. Cruz.

"It just started a lynch mob," said a senator who was present.
Put that last in the latest in Republican misappropriations of history…but I'm loving imagining that lunch.
Even better?  The next line in the NYT piece:
Despite the uproar, Mr. Cruz did not offer a plan for how his party could prevail in the shutdown battle and suggested his colleagues were defeatists.
Increasingly, it seems to me, Tailgunner Ted (R-TexCanada), resembles no one so much as this guy: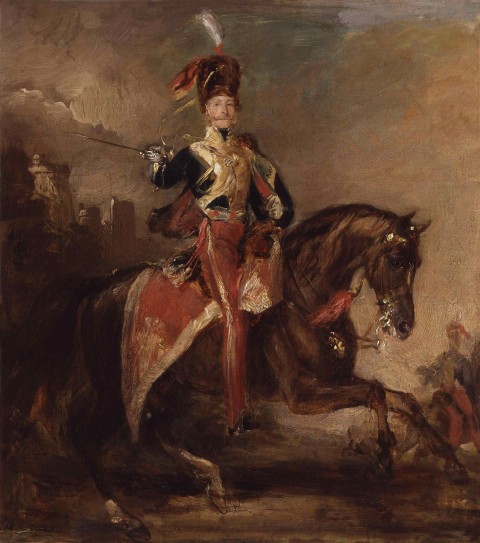 Or at least, so I devoutly hope.*¹
*Indulging in a little historical hyperbole of my own, I guess.  Sue me.
¹In fact, Cardigan would be a step up from Our Ted:
"His progression through the Army was marked by many episodes of extraordinary incompetence, but this can be measured against his generosity to the men under his command and genuine bravery. As a member of the landed aristocracy he had actively and steadfastly opposed any political reform in Britain, but in the last year of his life he relented and came to acknowledge that such reform would bring benefit to all classes of society."
Image:  Francis Grant, James Brudenell, 7th Earl of Cardigan, c.1841 — or about 13 years before his most infamous exploit.