Ok.  That title is a bit of hyperbole (you think?–ed.).  No deaths have yet been reported from this:
This evening, the Food Safety and Inspection Service of the US Department of Agriculture announced that "an estimated 278 illnesses … reported in 18 states" have been caused by chicken contaminated with Salmonella Heidelberg and possibly produced by the firm Foster Farms.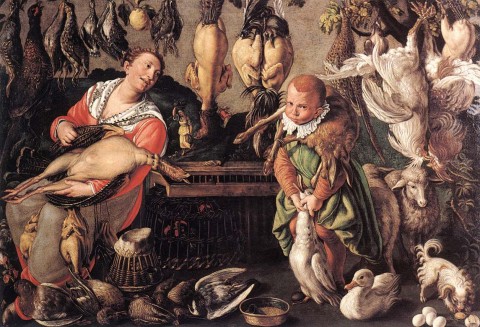 The news and its context (and lots of links, now updated) comes from the invaluable Superbug blog written by the equally prized Maryn McKenna (known to her friends as the internet's Scary Germ Girl, perhaps for books like this one.)*
That's not the punch line, though.  Something else makes this latest demonstration of the risks inhering to the US food supply system so infuriating and so scary — something with a distinctly GOP reek wafting through it:
 [The Food Safety and Inspection Service] is unable to link the illnesses to a specific product and a specific production period," the agency said in an emailed alert. "The outbreak is continuing."

This is the exact situation that CDC and other about-to-be-furloughed federal personnel warned about last week.
As Maryn emphasizes:  we are confronting a potentially deadly public health crisis with legally enforced ignorance:
 At the CDC, which operates the national foodborne-detection services FoodNet and PulseNet, scientists couldn't work on this if they wanted to; they have been locked out of their offices, lab and emails. (At a conference I attended last week, 10 percent of the speakers did not show up because they were CDC personnel and risked being fired if they traveled even voluntarily.)
To mix metaphors — when you have a political party determined to spin the cartridge on the whole country, eventually the hammer will find a loaded chamber.
Go read the whole of Maryn's reporting.  This isn't skittles. It's illness and misery, the possibility of life-long diminishment…and maybe deaths too, as always with the most vulnerable, kids and the elderly, squarely in the cross hairs.
Even if, as I deeply hope, the current outbreak passes with minimal harm to our fellow citizens, that just means we got lucky.  As long as Republicans see the shut down as a game in which they must put "points on the board" we're on the hook for the news we know will come.
To take it one step further:  the dominant view within the modern Republican party is one that in essence denies the existence of society.  In the Tea Party view — the one shaping the entire party's vision — the US is and must be a nation of individuals, atoms; there is no concept that we might act in concert to ends other than those we can address one by one.
From that perspective deciding we don't need food safety inspectors makes sense.  It's my job or yours to make sure we cook that chicken breast all the way through, that we sterilize our cutting boards, that we never forget to soap off our knives between cuts, that we never eat with friends less cautious than ourselves. (I'm following Maryn's argument here, btw.)
One could choose to live that way.  Kids would die from time to time and maybe grandpa too, gone before he needed to go.  Such deaths would be the price of my freedom, a definition of liberty renders every other person around me a kind of ghost: there, but not so much so that I need act as if they are just as real as me.
That's what's at stake in the current impasse in Washington.  I don't want to live with ghosts. I want friends, I want colleagues, I want a society — civilization.  Hell!  I want chicken inspectors, and it's a privilege, not a burden, to live within a system that's figured out how to  have them.  That the Republicans don't seem to get that is why the current version of the party (no longer) of Lincoln must be ground into the dust.
Factio Grandaeva Delenda Est.
UPDATE:  Via blog friend Mike the Mad Biologist, this news:
A sweeping salmonella outbreak has become so serious that the Centers for Disease Control and Prevention has called back 10 furloughed staff members to monitor this and other outbreaks.
Mike tells me that the recalled staff work on PulseNet.
*You can get the word directly from Maryn via my conversation with her on the Virtually Speaking Science podcast.
Image:  Vincenzo Campi, Chicken Vendors, 1580.