Just thought I would provide you all with a Steve update. He's doing ok: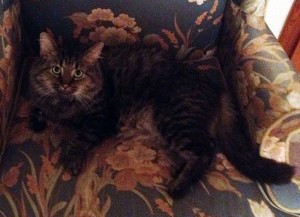 Other than my lap, that is his favorite chair. It used to be in my office but I moved it into the hallway when I was cleaning, and he likes it so much that I just left it there. Plus, it's a super comfortable wingback, so I sit in it when I fold clothes from the laundry, so I like it there.
Steve has really turned out to be an exceptional cat. I am fully convinced that he is part Siamese, because he talks all the time. And I mean all the time. If anyone calls, and I start to talk on the phone, he runs in the room to pipe in because if people are talking he needs to have his say. Most of my conversations sound like this: "OK. MMHMM. Alright. When do you need me to- STEVE SHUT UP– sorry, when do you need me to do- DAMNIT STEVE, I WILL CUT YOU– sorry- when do you need that done. Hey, look, I have to go. Just email me with the details. Talk to you later…"
He's also a complete heater- he puts off more heat than any cat I have ever known. It's like having an up-ended bunsen burner on your lap. Oh, and the other cute thing he does is that Tunch would always circle up in a ball on my lap or on the bed. Steve falls asleep with his front paws on my chest and my arm, as if he is not letting me leave. Every now and then he takes one of his baseball mitt paws and grabs a finger, and it feels like a baby is grabbing my hand. It's really adorable.
And I don't even want to get into what a polydactyl can do with a litter box. But he is just great and I am almost done calling him Tunch when he pisses me off, which is frequently. He's a very cat like cat, which means he is ornery all the time.
I fully understand why his previous owners called him Bugger. I have no idea why they were able to leave him behind, though. I never could.