While you young whippersnappers were all in your barcaloungers drinking whatever pumpkin spiced crap you could find, moms was celebrating her 72nd birthday with my sister Devon in their box seats at the Penguins game: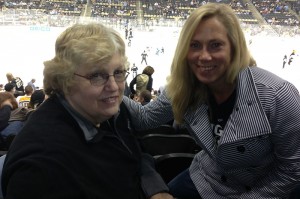 I still think she looks like she did when she was in her fifties.* Then again, Devon still looks like she is 25.
Happy Birthday, Mom!
* This picture was mom approved, which means tomorrow I will not wake up to emails, texts, and voice mails saying "Why would you put that picture up? I look terrible. I look like a frumpy old hausfrau."