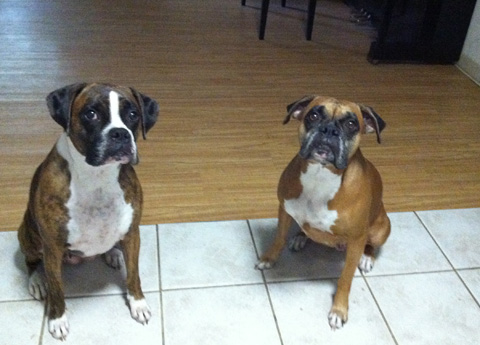 Blog needs more dog. Here are a pair of boxers. Their serious expressions have nothing to do with the possibility that the US Congress now has a greater concentration of stupid than at any time since just prior to the Civil War. The thing that makes these zaftig doggies so solemn is CHEESE.
Speaking of stupid, I destroyed yet another broomstick this morning. I didn't crash into a light pole on the way to the Leaky Cauldron; I was attempting to slay what I thought was a giant flying cockroach that I thought had alighted on the floor, in just about the same spot where the dogs would patiently await cheese in the above photo, which was taken later.
I launched into giant cockroach battle mode, which consists of grabbing a broom and swinging it at a lumbering insect in vicious, high-speed arcs, while screaming DIE! DIE! DIE!, then using the broom to sweep the carcass of the annihilated foe out onto the porch and then off into the yard.
But it turns out the thing I thought was a giant cockroach was just a giant cockroach-shaped piece of mulch that one of the dogs must have carried in on her feet or jowls. And I broke a broom over it. Damn. It's possible I should update the prescription on my glasses.
Please feel free to discuss pets, pest control techniques, eyewear, the fact that a gunnysack of meth-snorting ferrets is more intelligent and rational than the neo-confederates in the US Congress or whatever.
[X-posted at
Rumproast
]