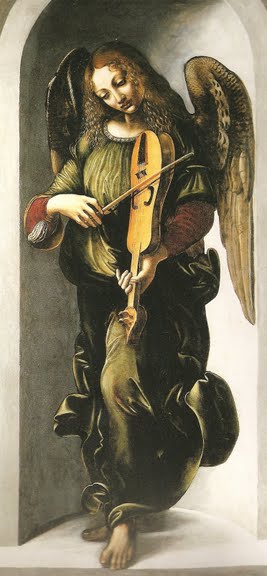 Via Brad Friedman, we learn that Sen. Ted Cruz' speech writer and senior communications adviser Amanda Carpenter put this up on the Twitter machine:
It's almost November and I have no idea what my health plan will be or what it will cost in January. This. Is. Awful.
Well, maybe if you hadn't spent the last whatever helping your boss help the GOP conspire to take away your congressional staff health benefits…
…Aww.  Fekkit.  Not even going to try to argue the logic.  Just — if you don't want gov't. to help you, don't kvetch when it doesn't.
Or, to put it another way:
BWAHAHAHAHAHAH!
Image:  Associate of Leonardo da Vinci (Francesco Napoletano?), Angel with violin / Panels from the S. Francesco Altarpiece, Milan, between 1490 and 1499.