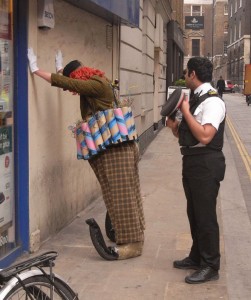 So the insane clown posse has had their semtex vests taken away and the economy and the American people are safe for a few months, and the Teahadists got nothing:
With a deal to reopen the government apparently imminent Wednesday, it's worth taking stock of what it was all for—the two and a half weeks without a fully functioning federal government, the nonstop chaos on Capitol Hill, the tiptoeing to the brink of default.

For Republicans, it was basically for nothing.

The GOP will actually get less out of the final deal being brokered than the party would have gotten had House conservatives never staged their revolt on Obamacare. In fact, the drama is likely to end with Republicans ceding policy concessions to Democrats.

Let's review: Had the House passed the "clean" continuing resolution it was offered on September 30, the government would have remained open only until November 15, at the reduced funding levels determined by the "sequestration" cuts imposed by the 2011 debt-limit deal. Republicans still would have had the debt-ceiling deadline Thursday, plus another budget fight on the horizon a month later, as perceived points of leverage. (Democrats insist this leverage is illusory as the White House would refuse to negotiate, but to Republicans, that's what these deadlines are: valuable bargaining chips.)

Instead, the House is poised to pass a measure that funds the government through January 15 and lifts the debt ceiling until February 7—taking the heat off Congress for months and eliminating three pressure points (the September 30 funding expiration, the October 17 debt-ceiling target, and the hypothetical November 15 funding expiration) in one go. The proposed deal negotiated by Senate leaders also would force the two houses to convene a budget committee, something Democrats have been demanding since the Senate passed a budget in March—and conservative Republicans have repeatedly blocked, for fear that any compromise negotiated between the two houses would mean selling out their principles.
And that's exactly what happened. Complete and total capitulation and getting nothing for their hostage negotiations of the last month other than, well, this:
The Tea Party is less popular than ever, with even many Republicans now viewing the movement negatively. Overall, nearly half of the public (49%) has an unfavorable opinion of the Tea Party, while 30% have a favorable opinion.

The balance of opinion toward the Tea Party has turned more negative since June, when 37% viewed it favorably and 45% had an unfavorable opinion. And the Tea Party's image is much more negative today than it was three years ago, shortly after it emerged as a conservative protest movement against Barack Obama's policies on health care and the economy.
WINNING! Of course the Republicans won't believe this from Pew until the lardhead from Unskewed Polls gives the numbers the ok, except sadly his website is now as defunct as the Romney inaugural committee. And while this is all a good bit of fun, let's remember the best is yet to come, because now we get to watch the only thing that Republicans are any good at- circular firing squads:
Ted Cruz and Mike Lee may not have been able to strike a death blow to Obamacare today, but they were able to fight a fight that would have been impossible before them. They have now made it less and less possible for Republicans to collaborate with Democrats to fix or stabilize Obamacare.

So we must advance. Two Republicans in the Senate caused this fight that their colleagues would have surrendered on more quickly but for them. Imagine a Senate filled with more. We have an opportunity to replace Mitch McConnell in Kentucky with a better conservative. We should do that. We have the opportunity to send a strong conservative from North Carolina and we should do that. Same in Colorado. Kansas looks to be in play. Chris McDaniel will declare his candidacy for the Senate in Mississippi. Conservatives will rally to him quickly. Tennessee could be in play too.

The establishment has given conservatives a brilliant opportunity to advance against them and then against the Democrats. As Obamacare now goes into full swing, conservatives can show that they tried to stop it while Mitch McConnell and so many others sat and watched from a cozy booth the Capitol Hill Club leaving the fighting to others while they did everything possible to undermine the fight.

***

The last time the major leaders of an American political party tried to compromise their way to power, the party broke apart giving us the Republicans. This fight too will break apart the GOP. There will not necessarily be a new party from it, but there will be a fundamentally altered party of new faces fueled by a grassroots movement now able to connect with each other and independent from Wall Street and K Street funders.

Never before have the people been less dependent on a party apparatus to play in primaries. Conservatives now have groups like Heritage Action, Senate Conservatives Fund, Madison Project, Club for Growth, FreedomWorks, For America, and others to fund and rely on.

Grassroots upset about this fight should be encouraged. We'd have never gotten this far with the GOP before 2010. Imagine now the possibilities in 2014 if we make examples of a GOP that refused to fight Obamacare.
The title of that post is "Advancing, always Advancing."
Boy howdy. This is going to be fun.