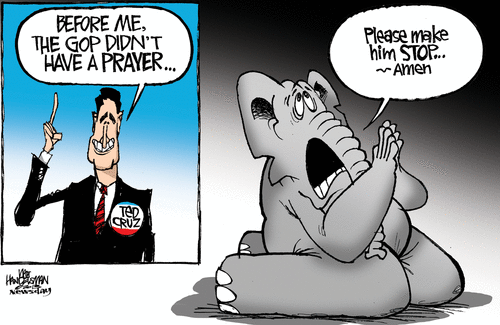 .
Mr. Popularity explains to Robert Costa [warning: NRO link] that it's everyone's fault but his that the GOP shutdown tanked the party's standing in return for… nothing:
According to Senator Ted Cruz of Texas, it's his colleagues, more than anyone, who should be blamed for the failure of the defund-Obamacare campaign — and he expects conservatives to remember come primary season.

"Unfortunately, rather than supporting House Republicans, a significant number of Senate Republicans actively, aggressively, and vocally led the effort to defeat House Republicans, to defeat the effort to defund Obamacare," Cruz says, in an interview with National Review. "Once Senate Republicans did that, it crippled the chances of this effort, and it caused the lousy deal."…

Cruz knows many Senate Republicans are unlikely to appreciate his advice to conservatives, or his appetite for another showdown early next year. He doesn't care, though, since he believes his push to stop Obamcare and connect the party to disenchanted voters beyond the Beltway is critical to the GOP's future success. "That transformation, shifting the power from the closed rooms in Washington, from the lobbyists and monied interests on K Street, and back to the American people, is the most important fight," he says.

"I cannot help if others choose to launch personal assaults and insults at me," Cruz says. "What I can control is how I respond, and I have not and will not respond in kind. Instead, I was elected to do a job, and that is to represent 26 million Texans. . . . Regardless of the attacks, my focus remains on the substance."

"Every day, I jump out of bed with a smile on my face, because it is a joy to have the opportunity to stand with the American people and work to help restore people's faith and optimism in our nation," he concludes. "It's an incredible honor to play a small role in expanding the American dream."
I thought Cruz was just another grifter, but he's a grifter who's come to believe his own con. He's not gonna run for President, but he's quite willing to be anointed as America's God-King.