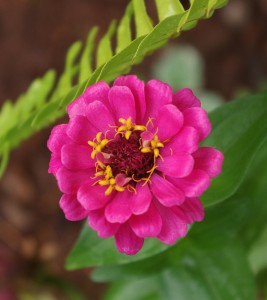 From commentor Max:
I had some wildflower seeds that I threw into a transplant pot just for the hell of it. It dried out so much in September that they didn't look too hot, but it rained all last week, so I got this picture. Freeze coming, so they're gone with the wind.

Not a garden picture per se, but this young lady was hanging out on the guide rope along one of the visitor's paths at Harper's Ferry. (Praying Mantii are good for gardens, since they eat crop-destroying pests.)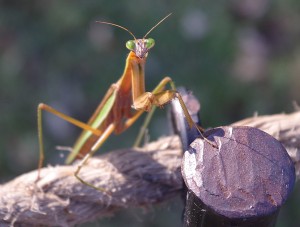 ***********
Because it's the season, at least for root-pruning, the Washington Post has a fascinating article on transplanting trees and shrubs.
There's a couple philadelphus (mock orange) bushes which are badly misplaced in our front yard — the Southern mailorder company swore they'd mature at around 4-6 feet, but they've shot up to twice that height even after being hacked back to the ground…. twice. They're crowding out the lilacs on either side, and unlike the lilacs I never get more than a token random spray of blossoms from the blasted things, because of course it takes years for them to bloom after pruning. But it makes my back hurt just to think about hacking into those roots, and I've gotten so irked by the bloody things I'm not sure I'd even bother replanting them if I did.
What's going on in your gardens this week?