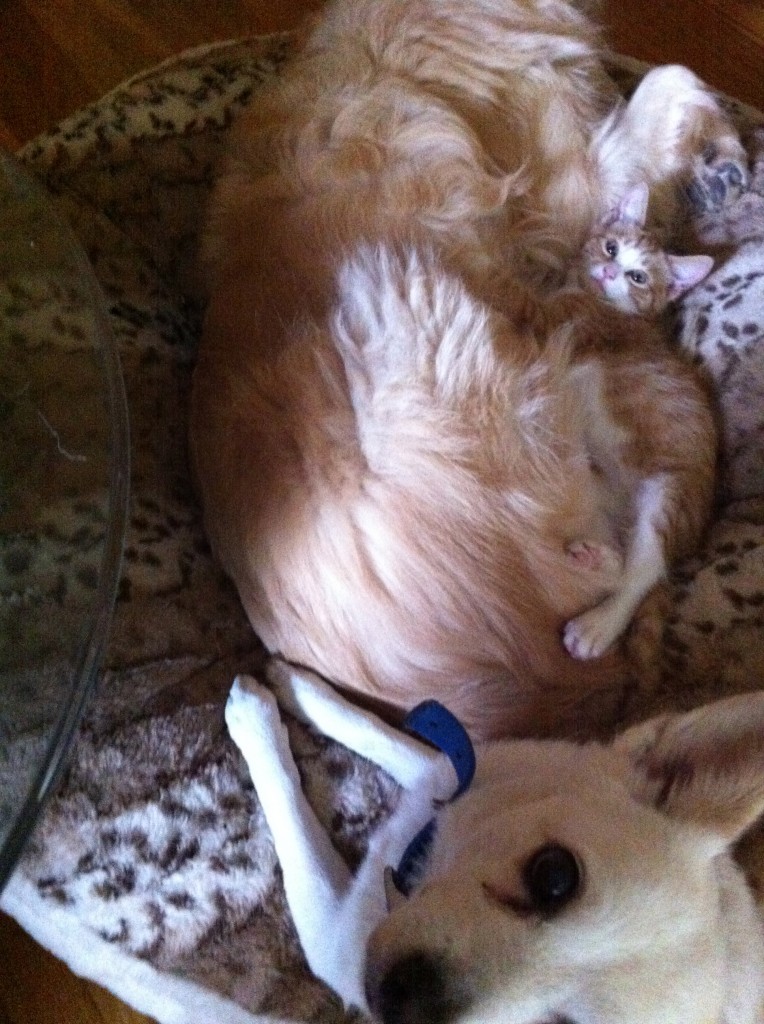 Once again, Beth S. has most graciously agreed to assemble the Balloon Juice Pet Calendar for 2014, with all profits going to Cole's chosen rescue group MARC (Marion Animal Resource Connection). Beth's specifications:
I'm looking for the highest resolution images possible. The photos themselves won't be that large, but the largest and highest resolution images people can send the better. I have photoshop and can do some remediation on images as necessary.
Send your pics (don't be shy, neither your art nor your pet(s) need to be 'show quality') to [email protected]. Any problems, you can also send them to me at [email protected] (or click on my name under 'Contact' in the right-hand column). Deadline is Thursday, October 31, so Beth has time to put the whole massive project together and get it into print in time for year-end gift-giving.
Questions, ideas, suggestions — leave a comment below.
ETA: Stories are not required. Only photos will appear in the calendar, but if you do send a story, I may use it here on the blog as a mood-booster…
***********
And here's the story that goes with the picture at the top, one of the photos already submitted, from commentor Summer:
A little over a month ago I was walking my dogs at night when this tiny kitten came barreling out from under a car and stood in the middle of the street WAILING at us. When we walked toward her, she shot back under the car and continued crying in the particularly heart-wrenching manner of lost baby kittens. I sat next to the car and talked to her, and my dogs lay down near me. After a few minutes she crept out from under the car and sniffed at the smaller of my two dogs, the one to whom she'd seemed to directing her wails from the middle of the street.

Then she ran back under the car.

Two hours, part of a can of dog food, and the enlistment of my friend (who at one point scaled an eight-foot high fence dividing two yards) later, she was hiding underneath and in back of a shed near the car. Still crying. It was 1 a.m. And we gave up for the night.

The next day I messaged my neighbor that there might be a kitten under his car when he started it for work, and got his permission to try to catch her. Then I borrowed another neighbor's trap and baited it with delicious canned dog food. No luck. But at 5 p.m. my neighbor showed up wearing heavy-duty gloves carrying a yowling, spitting kitten barely old enough to eat solid food.

My cat George disappeared three months ago, along with three other cats in the neighborhood. He was 15 and I'd had him for 14 years. I swore I'd never get another cat. I love birds and hate litter boxes. And I'd loved George.

But then, just like that, Gemma Pumpkin Sparkles joined the household. As she grew a little older, she clearly became Prince Harry Pumpkin. This photo captures a rare moment of quiet. Often she's too busy attacking the dogs' tails or feet to let them have a moment of rest. But when she's not — he's not — then he creeps close to them and falls asleep, purring as loudly as he is in my lap now. And all is well.